Want to know what's really going on inside the Walls of NFL Organizations? Find out all the latest INSIDE news, notes, strategy and internal team discussions taking place around the league.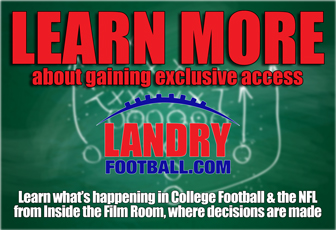 Have your own NFL Scouting Department for less than a yearly magazine subscription. By joining today, you get a 50% discount on the first month by using the code = LandryFootball. To get 25% off for a year, use the code = WarRoom
Become the smartest and most informed person in the room and get a leg up on your Fantasy Football opponents by joining Chris Landry inside the WAR ROOM.

Dallas Cowboys owner Jerry Jones and longtime Seattle Seahawks safety Kenny Easley were selected to the 2017 Pro Football Hall of Fame on Saturday along with LaDainian Tomlinson, Terrell Davis, Jason Taylor, Kurt Warner and Morten Andersen.
Notably absent from the class are former NFL commissioner Paul Tagliabue and wide receiver Terrell Owens, who called the process "flawed" Saturday night after learning the selection committee did not vote the mercurial receiver into the Hall of Fame in his second year of eligibility.
Jones purchased the Dallas Cowboys in 1989 and became the first owner whose team went to the Super Bowl four times in his first seven years with the franchise. Jones is widely involved in NFL ownership committees, including marketing, sponsorship, television, stadium management, labor negotiations and television.
Tomlinson, the league's No. 5 all-time rusher, made the Hall of Fame on the first ballot. The fifth overall pick in 2001 spent nine seasons with the Chargers and played two years with the New York Jets, rushing for 13,684 yards and compiling 162 total touchdowns (17 receiving). Tomlinson had a 100-catch season, a rarity for running backs, and was a four-time All-Pro.
— Matt Ryan was named NFL Most Valuable Player during the league's prime-time awards show on the eve of Super Bowl LI.
Ryan is the first MVP in Atlanta Falcons history. At the helm of the No. 1 offense in the NFL, Ryan had 38 touchdown passes and seven interceptions, throwing for 4,944 yards with a 69.1 completion percentage for the Falcons (11-5).
Oakland Raiders pass rusher Khalil Mack unseated J.J. Watt as Defensive Player of the Year.
Dallas Cowboys quarterback Dak Prescott was named NFL Offensive Rookie of the Year, beating out teammate Ezekiel Elliott. Chargers defensive end Joey Bosa was named Defensive Rookie of the Year.
— Falcons quarterback Matt Ryan will be financially rewarded for taking his team to Super Bowl LI.
The 31-year-old will get a new deal, according to Falcons owner Arthur Blank. Ryan still has two years left on the six-year, $103.75 million contract he signed in July 2013, including $59 million guaranteed.
Ryan could become the league's highest-paid player after leading the Falcons to Sunday's game against the New England Patriots. Indianapolis Colts quarterback Andrew Luck entered the 2016 season with a five-year, $140 million deal that included a record $87 million guaranteed