One way to guage a team's interest in a prospect is who they spend time to visit with. However, understand that part of the evaluation process is getting to know these players better so the interview process comes BEFORE deciding where to place them on your draft board.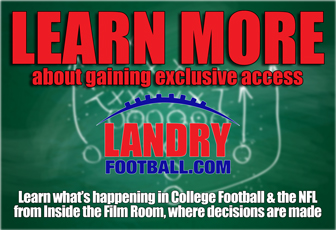 HERE IS A COMPLETE LIST OF PROSPECTS EACH TEAM HAS VISITED WITH
If you are not yet a member of LandryFootball.com, see what you are missing. We take you inside the FILM ROOM and give you the perspective of a veteran NFL COACH & SCOUT.
Get REAL information from a Veteran NFL Scout that NFL teams hire as a consultant. It's like having your own NFL Scouting Department for less than a magazine subscription.
NFL Teams and Major College Football Programs are members, you can be also.
SR – Senior Bowl meeting.
EW – East-West Shrine meeting.
COM – Combine meeting.
INT – Interested.
VINT – Very Interested.
PRO – Pro Day or campus meeting/workout.
LOC – Local visit. Prospect making a local visit.
PRI – Private visit. Prospect making an official 30 visit.
WOR – Private Workout. Members of an organization working out a player in private.
STM – Some Type of Meeting.
% – indicates more than one meeting at an event.
^ – has met with team at more than one event.
# – indicates meeting set up outside of the 2017 Senior Bowl or the 2017 East-West Shrine Game