As part of getting you ready for the football season, we break down each team's roster and depth chart, giving an overview of each side of the ball, key players to keep an eye on this season, top pro prospects as well as a look at the past four recruiting classes.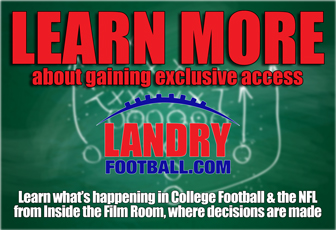 By doing this, you can get a feel for how players were evaluated coming out of high school and how they have graded thus far as college players.
Stay on top of the College Football game all year round by joining veteran NFL Scout Chris Landry inside LandryFootball.com.
Get a 50% discount for the first month by using the discount code = LandryFootball or 25% off for a full year's membership by using the discount code = WarRoom.
COLLEGE PERSONNEL GRADING SCALE
This grading scale is designed to separate classes of players as well as skill sets and athletic traits. The grade only reflects what a player is currently,
7.4 – 7.0 (BLUE) = BLUE players are the top line players in the country. BLUE Players make the plays that are the difference in close games. They have Superior talent and consistently make big plays.
7.4 = One of the top handful of players in the country if not the best.
7.0 = One of top players at his position in the country.
6.9 – 6.5 (RED) = RED players win for you. They have starter type production at the top level programs. REDS are usually BLUE in either the running or passing game but fall short in the other. RED players are impact players on top teams.
6.9= One of the best players at his position in the country You must game plan for their presence.
6.5= High level player at his position in the country They cause some match up problems.
6.4 – 6.0 (PURPLE) = PURPLE players are players that you can win with even if they are not players that can win for you. They are usually RED in some areas and can match up with some REDS but overall fall short of REDS. PURPLES are very good players. They are solid starters who will usually get the job done in at least some areas. The College Personnel scouting axiom is to not play anyone below a PURPLE.
6.4= Upper tier in the solid starter category and are close to being a RED and may even be in some areas.
6.0 = Solid starter but not on the verge of being in the REDS and may even be close to trending to ORANGE. Could be a declining veteran or someone lacking in special physical or intangible traits.
5.9 – 5.5 (GREEN) = GREENS are young players with upside potential. While you may not be able to currently play them much, it is due to inexperience and not physical or intangible traits. You cannot to play too many GREENS unless you are in a rebuilding year or out of playoff contention.
5.9= Players with lots of physical ability with inexperience the only thing holding them back to being A RED or above.
5.5 = Good young players with the physical ability with inexperience the only thing holding them back from PURPLE.
The above 3 rating areas are the minimum of what a club must have to win at the national level. Any Player below purple must be upgraded or the club does not match up at that position creating a mismatch advantage for their opponents.
5.4 – 5.0 (ORANGE) = An ORANGE player is one with backup ability and/or production only. They do not match up versus the REDS and are dominated by the BLUES. An ORANGE should make your squad only if they are a RED or BLUE special teamer. Otherwise, you must replace your ORANGES.
5.4 = A player with ORANGE production but may have PURPLE or above physical or intangible traits.
5.0 = Player who will never be more than back up roster player & one you must replace unless he is a RED or BLUE STARTER.
4.9 – 4.5 (YELLOW) = A YELLOW player is one who lacks the ability and skills to contribute even as a backup OR someone who has serious medical or character issues. In any of these cases, these players are not worth developing.
4.9= A player who is not good enough at this point but may have some qualities to develop into a backup at some point. Usually someone with decent physical traits but trying to overcome medical or character flaws.
4.5= A player that you think is not good enough and likely has serious playing, medical or character flaws and therefore not worth developing.
INJURED PLAYER (GRAY) = A injured player is designated by a GRAY coloring or circling as even though he currently is not producing, he must be kept alive based on previous ability and skill level and anticipated return of health.