Veteran NFL Scout Chris Landry serves as consultant to NFL teams so here is your chance to get information from a scouting professional who has set up draft boards as opposed to those bloggers and talking heads who have never worked in the league or run a draft room in the NFL.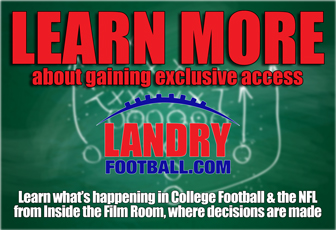 Here is our RECEIVER draft board along with Scouting Reports based on film grades.
Keep in mind that this is not a projection of where players will be drafted necessarily but rather where their grade value is. Supply and demand at each position has a tremendous affect on where players are drafted.
So here is a look at how I have them graded and ranked after you have a better understanding of how as scouts we evaluate WIDE RECEIVERS.
Here are the critical factors and position specifics for the Receiver positions.
RECEIVERS EVALUATION CRITERIA
The term wide receiver gets misused as many of the top receiving weapons in the league do their damage from the slot position or other alignments other than the outside receiving position. It's also important to understand all the different receiver positions and the skill sets needed to excel at those various positions.
The "X" RECEIVER is the SPLIT END playing on the line of scrimmage. He must have the strength and quickness to fend off jam coverage as well as the strength to work across the middle of the field and make plays after the catch.
The "Z" RECEIVER is the FLANKER who normally plays opposite the split end, lining up just off the line of scrimmage making it a little easier to escape the jam with quickness and less reliant with strength. They do most of their work outside the numbers and vertically down the field.
The "SLOT" RECEIVER works off the line of scrimmage between the tight end/tackle and outside receiver. They must excel with quickness as they need to work a lot of two way option routes and elude with quickness. There are two types of SLOTS—the quick smaller slot and the big, physical slot that creates size mismatches. The quicker guys are more prevalent as more teams are using their TE in a flexed out position due to the profileration of the spread passing offenses in college ball.
AVERAGE NFL PHYSICAL TRAITS:
HEIGHT= 6010 (min – 5095 slot ) WEIGHT= 203 (min 170 slot-)
40 (speed over distance) = 4.48 (4.55) 10 (initial quickness) = 1.60 20 (maintain burst) = 2.65
BP x 225 (upper body strength) = 12
VJ (explosiveness, lower leg strength) = 36 BJ (explosiveness, hip strength) = 10-0
20yd shuttle (flexibility, burst, balance) = 4.15 60yd shuttle (flexibility, balance, endurance) = 11.4
3 cone = (agility, body control, cod) = 7.0 (min 7.50-) 4 square = 8.85
ARM= 31 3/4 HAND= 9 3/8
TEST= 20
****STRIDER SPEED****= On film, if a player can cover 5 yards with 2 steps = 4.5yard 40 time, If you can cover 5 plus yards with 2 steps, you are usually a sub 4.5 guy.—Based on going full speed.
WR CRITICAL FACTORS: NFL Receivers need to find a way to get open and catch the ball. In order to beat coverage, a receiver must be able to separate either with his speed or crafty route running. After getting open, you must have the body control to adjust to the ball and secure hands to catch the ball. Hand catching out of frame is one of the increasingly more important attributes as this allows for a larger catching radius and the ability to catch routes designed to keep defenders away from the ball like the back shoulder fade. Effective route running is making every route look the same over the first 8-10 yards of the route to keep defenders on their heels. Good route runners know how to eat defensive back's cushion with stems and nods in an effort to get them to open their hips precisely when a route is called to be broken off. Being able to do this while not breaking stride is the key to being a fluid and disciplined route runner and one difficult to defend.
.
1. HANDS—hard or soft—ability to snatch or body catch/trap, eye hand coordination, concentration and consistency.
2. ATHLETIC ABILITY– QUICKNESS—quickness off los—release, escape jam and seperation, quickness in and out of cuts and seperation quickness. AGILITY—-fluid routes,, sharp cuts as opposed to rounding them out, stride length. BALANCE— ability to turn & adjust body to keep in balance—body flexibility , ability to gather and cut
3. STRENGTH/EXPLOSION— STRENGTH– playing strength and explosion—blocking strength strength, ability to break through tackles, EXPLOSION—burst off los, strength & leverage into blocks.
4. LEARNING/WORK ETHIC—ability to understand coverages and make adjustments on fly, extra time with QB to get sight adjustments down.
5. RELEASE— Initial quickness off the ball, avoid jam, seperation quickness.
6. ROUTES— type cuts—sharp or round, body flexibility, quickness off break—stride and
ability to gather and cut. Ability to get open, adjust to ball, awareness, ability to get deep, adjust
to ball in flight and deep acceleration.
7. PLAYING SPEED— speed of player in pads on the field. START— quickness off LOS, second gear COD- ability to gather and cut, re-direct his body & accelerate deep and short., quickness off break & ability to get open on short routes. STRIDE/FLUIDITY IN GAME— length of stride & type of runner (long, short, smooth/loose, tight/labors, adjustment to ball in flight, ability to run after catch, elusiveness & threat as runner as well as ability to get deep.
8. BALL SKILLS/COMPETITIVENESS— ability to play the ball and fight for ball in air.. player's physical and mental toughness and intensity. CLUTCH—win at all costs, wants to be best, plays with confidence & aggressiveness, wants to be man in charge with game on line. WORK ETHIC— works at being best on & off field PRODUCTION— how he grades out—hand catches, route running, seperation, yards per catch. REACTION TO CROWD THROWS— courage, concentration on ball in crown, holds ball on contact.
WR POSITION SPECIFICS:
9. (1) BLOCKING—effort/willingness, strength, type of blocks made,
10. (2) RUN AFTER CATCH— elusiveness, threat as runner, breakaway speed, ability to
break tackles.
11. (3) BODY ADJUSTMENT—adjustment to ball in flight & tough to catch spots, ability to
block on move, jumping ability, high and low catches, front and behind catches.
Overall catching radius.
12. (4) VISION/TRACKING BALL—see ball in flight and adjustment to ball.
13. (5) TOUGHNESS—ability to take hit and maintain focus, blocking toughness.
14. (6) SIZE— minimum requirement, type of build, growth potential.
SPECIAL TEAMS FACTORS:
1. RETURNERS— should be core return guy
2. GUNNERS ON COVERAGE UNITS–
SEQUENCIAL ORDER OF EVALUATING A WR ON A PLAY:
1. START
2. RELEASE & DRIVE
3. PATTERNS & CUTS
4. ADJUSTMENT TO BALL
5. CROWD REACTION
6. TAKE HIT
7. HANDS
8. RUN AFTER CATCH
9. FIELD AWARENESS
10. BLOCKING
<FOR OUR MEMBERS, HERE IS HOW OUR WIDE RECEIVER DRAFT BOARD STACKS UP. If you are not yet a member, take advantage of this limited time offer through the draft——By joining today, you get a 50% discount on the first month by using the code = LandryFootball. To get 25% off for a year, use the code = WarRoom——and get your own NFL Scouting Department for less than a magazine subscription.