2017 NFL DRAFT—SPECIALISTS DRAFT BOARD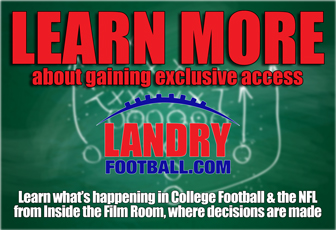 Veteran NFL Scout Chris Landry serves as consultant to NFL teams so here is your chance to get information from a scouting professional who has set up draft boards as opposed to those bloggers and talking heads who have never worked in the league or seen the insides of a draft room.
Here is the SPECIALISTS draft board, along with Scouting Reports based on film grades.
Keep in mind that this is not a projection of where players will be drafted necessarily but rather where their grade value is. Supply and demand at each position has a tremendous affect on where players are drafted.
So here is a look at how I have them graded and ranked after you have a better understanding of how as scouts we evaluate SPECIALISTS.
ST COVERAGE TEAM EVALUATION CRITERIA
Coverage team personnel serve as coverage guys and are often defensive backs and linebackers, who have experience in these areas. COVERAGE SPECIALISTS need to be fast, quick, tough and ultra competitive as they need to get downfield and make quick adjustments and throw their bodies in harm's way. The key qualities to succeed as a cover guy are; ASSIGNMENT, EFFORT, PROGRESSION TO BALL, BALL AWARENESS, ABILITY TO STAY ON FEET, ABILITY TO FORCE AND ABILITY TO TACKLE.
ST COVERAGE TEAM CRITICAL FACTORS:
1. ASSIGNMENT— must know coverage assignment according to position.
2. EFFORT— intensity and desire to make the play.
3. PROGRESSSION TO BALL— sprinting and adjusting with anticipation
4. BALL AWARENESS— location of ball—must know height, direction and distance.
5. STAYS ON FEET— vs High Block= must initiate contact with high block with use of hands, stay square and mirror the ball carrier. Vs Low Block= must hurdle or give ground without giving up leverage or angle, use hands to stay square and mirror the ball carrier.
6. FORCES— hustle and force the ball carrier into pursuit, angle or position running to help others in tackle.
7. TACKLE— maintain good position, head to numbers, wrap arms around.
RETURN TEAM EVALUATION CRITERIA
Return team personnel serve as core blockers for the returners and are often tight end, receivers and running backs who have experience in these areas.
RETURN TEAM CRITICAL FACTORS:
1. ASSIGNMENT— ability to pick out you assigned man on KOR—must know blocking assignment and techniques and execute consistently.
2. EFFORT— intensity and desire to get his job done.
3. POSITION IN SCHEME— hustle to get into position to cut off or block the path for the ball carrier.
4. BALL AWARENESS— location of ball—must know height, direction and distance.
5. MORE THAN ONE MAN— get your man—then get up and get another if he comes off his block.
6. GOT MAN— can have a good return ONLY if each blocker gets his own man.
7. JUDGEMENT— ball and position on the field awareness.
PUNTER EVALUATION CRITERIA
NFL 's best PUNTERS have good size and are long levered who can boom the ball and spin it where they want to. Punters get off times are critical and their BLOCK ZONE ideally should be in 11 YARDS with touch to toe times ideally in the 1.2 range. Punters must have great CONTROL and directionally kick inside the 20 yard line. The best punters keep their hang time at 4.5, which allows defenders to close the gap to returners.
PT TARGET TRAITS & NUMBERS:
OPERATION TIME FOR PUNTING GAME (involves snapper) = 2.0 or better at 14 yards.
* any get off times over 2.1 seconds, we risk getting a punt blocked or ineligible man down field penalty.*
PUNTER HANDLING TIME = 1.1 is TARGET, 1.2 IS GOOD, 1.3 needs to be quickened.
HANG TIME FOR 40 YARD PUNT = 4.3
*hang times and distance need to match up or there will be too much open space between coverage and the return man, giving your opponent a better opportunity for a long return.* ====FOR EXAMPLE A 36 YARD GROSS PUNT SHOULD YEILD A 5.0 HANG TIME AND A 54 YARD GROSS PUNT A 4.1 HANG TIME.—–A NET GROSS OF 39 YARDS PUTS YOU AT TOP OF LEAGUE.
* a 46 yd net punt should accompany a 4.6 hang time
PT CRITICAL FACTORS:
1. PRODUCTION— the average of his distance and hang time in game situations.
Hang time grades = 4.5 = 7 Distance Grades = 50 plus = 7
4.4 = 6 45-49 = 6
4.3 = 5 40-44 = 5
4.2 = 4 39 –less = 4
2. DIRECTIONAL KICK — percentage of placing the ball inside the 20, inside the 10 vs misses outside this area and into the end zone.
3. PRESSURE/MENTAL STABILITY— demeanor vs rush, confidence, results.
4. FOOT SPEED— can you see punter's foot hit the ball?, is it a blur? Don't see it at all? —this determines leg explosion/strength.
5. APPROACH LINE— is he a drifter and if so how much
6. BLOCK ZONE—ideally at least 10 yards of room between the extension of punter leg and the line of scrimmage.
7. HANDLING TIME— number of snaps—2, 2 ½, 3, jab steps.
8. HANDS— ease of receiving ball=reduces handling time.— 1.2 OR BETTER
9. ATHLETIC ABILITY- follow through, balance, run ability, ability to throw.
10. TOUGHNESS/TACKLING—can he be last line of coverage?
11. SIZE- can he handle physical nature of getting hit and hitting.
PUNT & KICKOFF RETURNER EVALUATION CRITERIA
The best NFL RETURNERS have the ability to change gears and the vision to see holes. To be special, they must have great balance. The best returners come from the WR, DB and RB positions. A good returner must also at least be a valuable backup at a regular position.
PR/KR CRITICAL FACTORS:
1. HANDS—soft, natural, judgement of ball in flight. Significant for punt returns. Dropping punts worse than dropping passes on offense. Less of an issue on kickoff returns.
2. JUDGEMENT—know when to and when not to field ball, awareness, fair catch, fearless.
3. ELUSIVENESS—avoid first tackler, darter or weaver, quick bursts, finds and take seams, north/south.
4. ACCELERATION—burst to hit seam and open areas, home run hitter
5. GAME BREAKING ABILITY— ability to take a crease and take it to house. Raw speed to outrun defenders.
6. POISE UNDER PRESSURE—field ball under rush pressure, durable, take a hit and handle ball, feel pressure but maintain focus on ball.
7. .COMPETITIVENESS—desire to make some thing happen but not take foolish risks.
8. DURABILITY—must have toughness and body makeup to take hits and keep coming back effectively and with courage.
PLACE KICKER & KICK OFF EVALUATION CRITERIA
NFL KICKERS have to have explosive LEG SPEED to get a quick lift off the ball. In addition to leg speed, CONSISTENCY and CONCENTRATION are critical. Mental toughness to handle bad weather and handle pressure moments and consistency to use the same rhythm and motion with every swing.
TARGET TRAITS & NUMBERS:
KICK OFF DISTANCE— end zone distance with 4.0 plus hangtime.
KICK OFF HANG TIME— 4.1 or better
FG RANGE & ACCURACY— what is accurate distance range. Should be 55yds.
PAT % – at least 95% efficiency.
GROUND TO KICK TIMES– .07 OR BETTER
PK CRITICAL FACTORS: ***FG OPERATION TIME= 7yds= 1.2, 8 yds=1.3
1. PRODUCTION— what are his numbers from all angles and ranges. Should be automatic under 40 yards with good overall operation numbers.
2. ACCURACY— placement, consistency.
3. LEG STRENGTH/FOOT SPEED—explosion into ball, distance, or drive puncher, extension & lift on ball.
4. PRESSURE—vs rush, bad snaps, composure, concentration. How does he handle pressure kicks?
5. PLANT RELATIONSHIP— square, open, pigeon toed.
6. ANGLE APPROACH— tight or wide.
7. STEPPING PATTERN—2, 2 ½, rock steps, groove, sharp, quick.
8. FLIGHT OF BALL— end over end or helicopter ball.
9. RISE OF BALL— how quickly can get the ball above block zone on kicks 40 yds or more.
10. HANDLES WIND— can he bore through wind?, head wind, cross wind, tail wind,
11. TACKLE— courage, can he get man down,
12. RUN/PASS—does he have an extra skill to help?
KO CRITICAL FACTORS:
1. PRODUCTION— depth and hang time.
2. MENTAL STABILITY— handle pressure, directional kick, avoidance kicks.
3. FOOT SPEED— can you see foot hit the ball? If so, leg strength is lacking.
HOLDER EVALUATION CRITERIA
Holders are usually one of two people. Usually it is the Punter for two reasons. One, they and the kicker work with each other during practice while the rest of the team is operating and two, the punter has to have good hands as clean, quick catches are a must for the punting game just as it is for holding for place kicks.
HOLDER CRITICAL FACTORS:
1. HANDS
2. POISE
3. RUN/PASS OPTION
DEEP & SHORT SNAPPER EVALUATION CRITERIA
DEEP & SHORT SNAPPER CRITICAL FACTORS: * Punting Operation time= 2.0-2.05 at 15 yards
*FG Operation time = 1.3 at 8 yards.
1. SNAP TIMES— 0.8 for Kick Snap at 8 yards, .72 for Punt Snaps at 15 yards.
2. FLIGHT OF SNAP—
3. ACCELERATION OF SNAP—
4. ONE OR TWO HAND SNAP—
5. BLOCK—
6. QUICKNESS OFF LOS—
7. EFFORT DOWNFIELD—
8. TACKLE—