Veteran NFL Scout Chris Landry serves as consultant to NFL teams so here is your chance to get information from a scouting professional who has set up draft boards as opposed to those bloggers and talking heads who have never worked in the league or seen the insides of a draft room.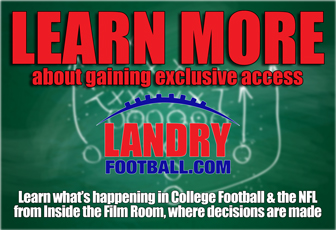 Here is the latest edition of our RUNNING BACK DRAFT BOARD along with scouting reports based on film grades.
Keep in mind that this is not a projection of where players will be drafted necessarily but rather where their grade value is. Supply and demand at each position has a tremendous affect on where players are drafted.
So here is a look at how I have them graded and ranked after you have a better understanding of how as scouts we evaluate RUNNING BACKS.
RUNNING BACK EVALUATION CRITERIA
Today's NFL running backs have become more specialized than ever, with teams relying on 2, 3 and even 4 backs for special roles. You have your COMPLETE backs (of clean backs) who can contribute on every down running, blocking and catching, SPEED backs who stretch the corner and excel in space. POWER backs can run through tackles and grind out tough yardage and UTILITY backs who possess diverse skills, capable of contributing in a number of roles.
RB's will be asked to pick up blitzing linebacker, wheel out and catch passes out of the backfield to go along with being a reliable, durable, quick and decisive runner. They should have a strong upper body, big, strong thighs and tapered lower legs. Both very good upper and lower body flexibility is necessary and he must grade very high in competitiveness.
AVERAGE NFL PHYSICAL TRAITS:
HEIGHT= 5111 (min – 5075 ) WEIGHT= 220 (min -183)
40 (speed over distance) = 4.49 (4.60) 10 (initial quickness) = 1.58 20 (maintain burst) = 2.58
BP x 225 (upper body strength) = 20 SQUAT #'S IMPORTANT FOR RB'S
VJ (explosiveness, lower leg strength) = 36 BJ (explosiveness, hip strength) = 9.9
20yd shuttle (flexibility, burst, balance) = 4.20 60yd shuttle (flexibility, balance, endurance) = 11.7
3 cone = (agility, body control, cod) = 7.25 (min -7.40) 4 square = 8.87
ARM= 31 3/8 HAND= 9 1/4
TEST= 16 (min -)
RB CRITICAL FACTORS: Good NFL running backs have great balance and vision and know where to run. To be special, a runner must be versatile enough to play effectively on every down and the best backs are highly competitive.
1. ATHLETIC ABILITY— INITIAL QUICKNESS—explosiveness off ball QUICKNESS—ability to pick and slide, quickness to corner, cutting ability into stride and elusiveness—darting or weaving, AGILITY-ability to accelerate into hole, ability to turn upfield and ability to pick and slide, BALANCE—ability to turn corner and get upfield and ability to run under his pads.
2. STRENGTH & EXPLOSION—STRENGTH—power and strength as inside runner, ability to break tackles, ability to get short yardage and extra yardage on his own and durability to take and deliver hits and punishment, EXPLOSION— surge into blocks, ability to turn upfield and explode through the hole.
3. PLAYING SPEED—- speed of the player in pads on the field. START— quickness out of block and quickness after start or 2nd gear. COD— ability to cut STRIDE/FLUIDITY— length of stride—type of runner = long/short, smooth, loose, tight, labors.
4. COMPETITIVENESS – players toughness & intensity—physically & mentally. CLUTCH PLAYER— win at all costs, wants to be best, plays with confidence & aggressiveness and wants the ball with game on line. WORK ETHIC— works to bring the best on and off the field PRODUCTION— all competitors must have production –yards per carry, yards after contact, avoidance yardage.
5. SIZE – must meet or be close to minimum requirement., type of build overall—studying the definition of ankles, calfs, thighs, hips,chest, shoulder, neck and arms, and does he have growth potential or is fully bulked.
RB POSITION SPECIFICS:
6. (1) INSTINCTS – INITIAL QUICKNESS—first move off ball, natural running ability and visual feel for blocking angles and holes.
7. (2) HANDS – soft or hard, body catch, trap or catch out of frame, eye/hand coordination, concentration, soft or loud sounding when hitting hands., big or small hands.
8. (3) BLOCKING – effectiveness inside and outside and as a pass blocker as well as ability to adjust to movement.
9. (4) ELUSIVENESS – ability to make people miss, darter or weaver type, patterns & cuts. Cod and balance,
10. (5) BALL SECURITY – if fumbler, why?—missing pressure points, courage, carelessness, physical makeup.
11. (6) DURABILITY – ability to deliver and take pounding and coming back to run just as hard & decisive. Can he play well hurt?
12. (7) INSIDE RUN & OUTSIDE RUN SKILLS – INSIDE —ability to pick & slide and hit hole quickly, patience and vision to read blocks and burst through the hole and quickness to avoid onto the second level. OUTSIDE—speed to the corner, acceleration around the corner, quick cutting ability back inside. POWER- breaks tackles, short yardage effectiveness, extra yardage on his own.
SPECIAL TEAMS FACTORS:
1. RETURNERS
2. COVERAGE SPECIALISTS
3. PROTECTION SPECIALISTS
SEQUENCIAL ORDER OF EVALUATING A RB ON A PLAY:
1. START
2. RUN VISION & INSTINCTS
3. INSIDE RUN/OUTSIDE RUN
4. ELUSIVENESS
5. POWER
6. RUN BLOCK/PASS BLOCK/EFFORT BLOCK
7. DURABILITY
8. BALL SECURITY
9. HANDS
<FOR OUR MEMBERS, HERE IS HOW OUR RUNNING BACK DRAFT BOARD STACKS UP. If you are not yet a member, take advantage of this limited time offer through the draft——By joining today, you get a 50% discount on the first month by using the code = LandryFootball. To get 25% off for a year, use the code = WarRoom——and get your own NFL Scouting Department for less than a magazine subscription.