Veteran NFL Scout Chris Landry serves as consultant to NFL teams so here is your chance to get information from a scouting professional who has set up draft boards as opposed to those bloggers and talking heads who have never worked in the league or seen the insides of a draft room.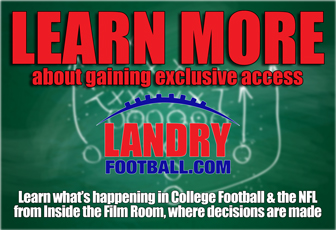 Here is the latest edition of our Quarterback draft board along with scouting reports based on film grades.
QUARTERBACK EVALUATION CRITERIA
2 Basic styles of offenses that quarterbacks fit into:
MATCHUP = Rhythm, timing that features a layered passing game with emphasis on short routes.
VERTICAL = Big, downfield passes set up with play action.
More than any other position, he needs to have total dedication to football. Must not be an excuse maker or seeker. Must inspire confidence of his teammates, must develop great command of CADENCE, must work to thoroughly understand defensive tactics and strategy and catalogue how to beat coverages. Must instill and develop timing and confidence in his receivers. Physically, he must have quickness to get away from under center smoothly and the foot quickness to elude in the pocket while keeping his eyes downfield. And he must be able to throw accurately from different arm angles and positions.
AVERAGE NFL PHYSICAL TRAITS:
HEIGHT= 6033 (min -6007)
WEIGHT= 223 (min -207)
40 (speed over distance) = 4.81 (5.20) 10 (initial quickness) = 1.63 20 (maintain burst) = 2.77
BP x 225 (upper body strength) = 17
VJ (explosiveness, lower leg strength) = 30" BJ (explosiveness, hip strength) = 9'-0"
20yd shuttle (flexibility, burst, balance) = 4.30 60yd shuttle (flexibility, balance, endurance) = n/a
3 cone = (agility, body control, cod) = 7.25
ARM= 31 ¾ HAND= 9 ½
TEST= 25 (min -16)
DROP SET UP TIMES: RELEASE TIMES:
3 yards = .76 1.5
5 yards = 1.00 2.1
7 yards = 1.30 3.1
9 yards = 1.75 3.9
QB CRITICAL FACTORS:
Accuracy is most important physical quality. Toughness, FBI and poise are crucial.
MENTAL AWARENESS – intelligence, field vision—seeing the field, understanding of coverage, reading defenses, judgment in decision making and avoidance of forcing the ball, poise under game and rush pressure, anticipation of when receivers will come open, locating secondary and tertiary receivers,
COMPETITIVENESS – physical and mental toughness, level of intensity, clutch skills, POISE–how he handles adverse conditions. Leadership, confidence. High character guys succeed here, Low character guys struggle here. High Work ethic—want self starters
ACCURACY – hitting target short, medium & long without making receivers work, ability to deliver catchable ball, touch when he needs it, leading a receiver on deep ball, velocity, timing.
RELEASE TYPE & QUICKNESS– type of release and location of release point, quickness from throwing point to release. RELEASE TIMES 3 yards= 1.5, 5 yards = 2.1, 7yards= 3.1 and 9 yards=3.9.
ARM STRENGTH – velocity on ball when needed, deep ball with little effort, delivery falling away from pressure with only his arm, velocity on out route, tightness of spiral.
BODY SIZE AND STRENGTH – does he meet height, weight, strength requirements for position and is he strong enough to take punishment and come back. Does he have the hand size and body strength to protect the ball?
PRODUCTION – do numbers back up his grade—accuracy % over completion %. INT vs TD ratio, result of QB passing chart on film grade. Percentage of correct LOS adjustments and percentage of correct post snap adjustments. Does he protect the ball first before trying to make a big play? Is he a technique and fundamental stickler for details?
QB POSITION SPECIFICS:
(1) SPEED – rollouts and sprints, stride at throwing point, natural running ability, and ability to avoid the rush and his scrambling ability.
(2) ATHLETIC ABILITY – quickness, agility, balance, cod, body flexibility, run ability, feel and physical adjust to pocket pressure,
(3) BALL MECHANICS – ball handling—ability to sell play action, setup quickness, delivery quickness, type of release, quickness from throwing point to release.
(4) SETUP QUICKNESS – quickness away from center, speed at throwing point, body control to throw on move, effectiveness on rollouts and sprints, foot quickness and stride at throwing point. DROP SET UP TIMES: 3 yards = .76 5 yards = 1.00 7 yards = 1.30 9 yards = 1.75
(5) AVOID SKILLS & SCRAMBLING ABILITY – natural running ability, avoid rush skills, feel and sense for location of pocket pressure.
SPECIAL TEAMS FACTORS:
HOLDERS
SEQUENCIAL ORDER OF EVALUATING A QB ON A PLAY:
DROP
SET
JUDGEMENT
POISE
LOCATE #2
AVOID, ESCAPE, SCRAMBLE
ROLL RIGHT OR LEFT
TIMING
RELEASE QUICKNESS
ACCURACY SHORT, MEDIUM OR LONG
FOLLOW THROUGH
TOUCH ON SCREENS AND SWINGS
ARM STRENGTH AND ZIP ON SHORT OR DEEP OUTS
TIMING, TOUCH, VELOCITY, ACCURACY ON GO, POST OR CORNER ROUTES
FOR OUR MEMBERS, HERE IS HOW OUR QUARTERBACK DRAFT BOARD STACKS UP. If you are not yet a member, take advantage of this limited time offer through the draft——By joining today, you get a 50% discount on the first month by using the code = LandryFootball. To get 25% off for a year, use the code = WarRoom——and get your own NFL Scouting Department for less than a magazine subscription.