Veteran NFL Scout Chris Landry serves as consultant to NFL teams so here is your chance to get information from a scouting professional who has set up draft boards as opposed to those bloggers and talking heads who have never worked in the league or seen the insides of a draft room.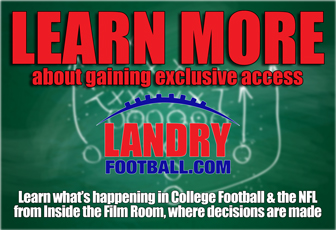 Here is our OFFENSIVE GUARD draft board along with scouting notes based on film work study.
Keep in mind that this is not a projection of where players will be drafted necessarily but rather where their grade value is. Supply and demand at each position has a tremendous affect on where players are drafted.
So here is a look at how I have them graded and ranked after you have a better understanding of how as scouts we evaluate OFFENSIVE GUARDS.
OFFENSIVE GUARD EVALUATION CRITERIA
Offensive Guards fit into one of two categories—-MAN blocking and ZONE blocking slide protectors. MAN BLOCKERS have had more elite physical characteristics to beat players one on one while AONE BLOCKERS can get away with less size and girth if they are quicker and utilize angles properly.
AVERAGE NFL PHYSICAL TRAITS:
HEIGHT= 6044 (min – ) WEIGHT= 312 (min )
40 (speed over distance) = 5.21 (5.30) 10 (initial quickness) = 1.85 20 (maintain burst) = 3.05
BP x 225 (upper body strength) = 26
VJ (explosiveness, lower leg strength) = 30 BJ (explosiveness, hip strength) = 8-6
20yd shuttle (flexibility, burst, balance) = 4.55 60yd shuttle (flexibility, balance, endurance) = n/a
3 cone = (agility, body control, cod) = 7.85 (min ) 4 square =
ARM= 33 HAND= 9 7/8
TEST= 23
OG CRITICAL FACTORS: To play OG in the NFL, you have to be strong, tough and have a nasty attitude. It is the position where you most readily can overcome lack of athletic skills and traits but athletic skills can take you to a different level. UOH is the most important skill set needed for the position as it is a leverage, power based position.
1. ATHLETIC ABILITY— QUICKNESS— initial quickness, movement off ball, quick after start, adjust to movement, quick in pass set, quickness in hands, quick feet to slide and mirror. AGAILITY— ability ot pull and move down the line, ability to get to 2nd level & downfield, ability to turn his body, adjust on move & make contact on moving target, degree of fluidity in movements. BALANCE—– ability to recover, COD, and overall body coordination, ability to stay on feet.
2. STRENGTH/EXPLOSION—STRENGTH—ability to overpower opponents (upper & lower), ability to sustain, play with good leverage and base. EXPLOSION— ability to pop into a defender with initial contact, ability to flow thru and drive after initial contact, anchor to sustain in pass protection.
3. PLAYING SPEED— speed of player in pads on the field, START—- acceleration & burst off los, quickness after start, pulling speed, downfield speed. COD— ability to re-direct body. STRIDE/FLUIDITY— length of stride—type of runner (long/short, smooth/loose
4. COMPETITIVENESS— CLUTCH— win at all costs, wants to be best, plays with confidence and aggressiveness, man in charge WORK ETHIC— works at being best. PRODUCTION— grades well on film, handles assignments and get man.
5. TOUGHNESS—must enjoy getting after people and finishing their blocks.
6. SIZE— minimum requirements, type of build, play to his size, grade body frame, growth
potential.
7. MENTAL/AWARENESS— has to be able to recognize and handle multiple defensive fronts
and blitzes.
0G POSITION SPECIFICS:
8. (1) SUSTAIN/RUN BLOCKING— ability to handle 1 on 1 blocking.—explosion, pop & strength., gets hi body into correct blocking position, turn his body into his opponent, gets to 2nd level, sustains and prevents opponents from getting penetration, quick footed to block down and get out on his man, maintain balance, adjust to movement, UOH—quickness of hands into defender, strength of hands, hand position, ability to pull—initial move, speed down the los, contact & adjust to movement, ability to execute pulls, trap and down block.
9. (2) PASS BLOCKING— quickness in pass set, first contact, strength/base to sustain vs power rushes, foot quickness & balance to slide and mirror vs speed athletic pass rushers. UOH-quickness, pop and positioning. Ability to recover and re-direct.
10. (3) PULLING/TRAP— initial move, contact, follow through and finish, timing & follow through on trap.
11. (4) DOWNFIELD BLOCKING—effort, angle and adjustment on move.
12. (5) INITIAL QUICKNESS— movement off ball, quickness after start
13. (6) UOH/ HAND QUICKNESS— quickness of hands into opponent initially, quickness to move and relocate hands,
14. (7) ARM LENGTH— allows you to lock out and keep defenders at bay—allows you to get away with ideal athleticism if you can prevent defenders from getting into his pads.
15. (8) SECOND POSITION— unless you are an elite LT, you must be able to play multiple positions on the offensive line.
16. (9) FOOT QUICKNESS—SHUFFLE & SLIDE— some can slide but must be able to re-direct and stay front of a defender.
17. (10) KNEE BEND- allows you to remain balanced and stay frontal.
SPECIAL TEAMS FACTORS:
1. PUNT AND KICK PROTECTION
2. LONG SNAP
SEQUENCIAL ORDER OF EVALUATING A OG ON A PLAY:
RUN
1. GET OFF
2. 1 ON 1
3. DOWN BLOCK/REACH BLOCK
4. TURN AND DRIVE
5. SUSTAIN
6. PULL
7. GET TO LB
8. ADJUST TO MOVEMENT
9. SUSTAIN
PASS
1. SET
2. DROP
3. FEET
4. HANDS
5. POP
6. SLIDE
7. RECOVER
8. STRENGTH
9. SUSTAIN
<FOR OUR MEMBERS, HERE IS HOW OUR OFFENSIVE GUARD DRAFT BOARD STACKS UP. If you are not yet a member, take advantage of this limited time offer through the draft——By joining today, you get a 50% discount on the first month by using the code = LandryFootball. To get 25% off for a year, use the code = WarRoom——and get your own NFL Scouting Department for less than a magazine subscription.