Veteran NFL Scout Chris Landry serves as consultant to NFL teams so here is your chance to get information from a scouting professional who has set up draft boards as opposed to those bloggers and talking heads who have never worked in the league or seen the insides of a draft room.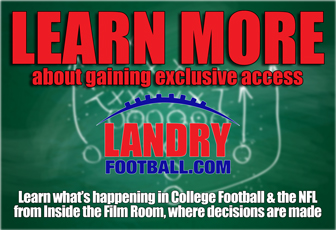 Here is the latest edition of our FULLBACK draft board as well as scouting reports based on film grades.
Keep in mind that this is not a projection of where players will be drafted necessarily but rather where their grade value is. Supply and demand at each position has a tremendous affect on where players are drafted.
So here is a look at how I have them graded and ranked after you have a better understanding of how as scouts we evaluate FULLBACKS.
FULL BACK EVALUATION CRITERIA
Fullbacks have been a dying breed in the NFL. Even teams that utilize them, use them less than 20% of the snaps. The FB's who have the most staying power are good receivers for today's passing game and are CORE special teams's coverage players.
AVERAGE NFL PHYSICAL TRAITS:
HEIGHT= 6003 WEIGHT= 243 (min -235)
40 (speed over distance) = 4.78 (4.85) 10 (initial quickness) = 1.70 20 (maintain burst) = 2.80
BP x 225 (upper body strength) = 22 SQUAT #'S IMPORTANT FOR RB'S
VJ (explosiveness, lower leg strength) = 30 BJ (explosiveness, hip strength) = 9.3
20yd shuttle (flexibility, burst, balance) = 4.25 60yd shuttle (flexibility, balance, endurance) = 11.8
3 cone = (agility, body control, cod) = 7.40
ARM= 31 7/8 HAND= 9 1/2
TEST= 18
FB CRITICAL FACTORS: Good FB's in today's game must have the versatility in that they must be physical, strong and tough enough to block a DE alone like a GUARD, slide out and pick up a rushing linebacker and athletic enough to run the ball with power and run routes as well as the hands to catch the ball for the passing game
1. INTELLIGENCE—awareness-must have smarts of an offensive guard and vision to see the field.
2. BLOCKING—must love to flat defenders—must be able to lead through a hole and athletic enough to slide and pick up a rusher. Must understand where the protection schemes are designed and where the pressure is coming from.
3. BALL SECURITY—must have the strength to hold on to ball in tight quarters and technique to cover the 4 pressure points.
4. SIZE—must be a blocky build, stocky strong to move defenders and bothe deliver and take a pounding.
5. TOUGHNESS— love to mix it up and hit people.
6. DURABILITY— has to have high pain tolerance and play hurt
FB POSITION SPECIFICS:
7. (1) HANDS—must be able to adjust to out of frame ball and hand catch.
8. (2) INSIDE RUN—must have pick and slide ability, explosiveness through the hole and physical qualities to get yards on your own, especially in short yardage and goal line situations.
9. (3) YARDS AFTER CATCH—must have pinball like bouncing off tackles quality.
10. (4) STRENGTH/EXPLOSION/POWER—movement of blocks and yards after contact.
11. (5) INITIAL QUICKNESS—move first off ball, initial speed.
12. (6) PRODUCTION—how well does he block, assignment sound.
SPECIAL TEAMS FACTORS:
1. CORE COVERAGE TEAMS
2. PROTECTION SCHEMES
SEQUENCIAL ORDER OF EVALUATING A FB ON A PLAY:
1. START
2. INSTINCTS
3. BLOCKING
4. POWER
5. INSIDE RUN
6. DURABILITY
7. HANDS
<FOR OUR MEMBERS, HERE IS HOW OUR FULBACK DRAFT BOARD STACKS UP. If you are not yet a member, take advantage of this limited time offer through the draft——By joining today, you get a 50% discount on the first month by using the code = LandryFootball. To get 25% off for a year, use the code = WarRoom——and get your own NFL Scouting Department for less than a magazine subscription.