Veteran NFL Scout Chris Landry serves as consultant to NFL teams so here is your chance to get information from a scouting professional who has set up draft boards as opposed to those bloggers and talking heads who have never worked in the league or seen the insides of a draft room.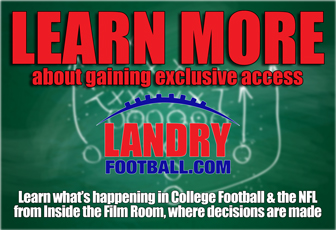 Here is the DEFENSIVE END draft board along with Scouting Reports based on film grades.
Keep in mind that this is not a projection of where players will be drafted necessarily but rather where their grade value is. Supply and demand at each position has a tremendous affect on where players are drafted.
So here is a look at how I have them graded and ranked after you have a better understanding of how as scouts we evaluate DEFENSIVE ENDS.
DEFENSIVE END EVALUATION CRITERIA
Defensive Ends in today's NFL fit into the following areas: A DLE is a run defending first player in a 4-3 front that also must provide at least some power rush skills if not some edge rush capabilities DRE must bring special pass rush characteristics out of a 4-3 front. The 5 – TECHNIQUE DE play on the outside shoulder of the offensive tackle and set the edge on a 3-man line. A DPR is a designated pass rusher who is not much of a factor against the run other than on his way to trying to sack the quarterback. His role is clearly defined as getting upfield and pressuring the quarterback.
AVERAGE NFL PHYSICAL TRAITS:
HEIGHT= 6040 (min –6025) WEIGHT= 279 (min 245 )
40 (speed over distance) = 4.82 (4.85) 10 (initial quickness) = 1.70 20 (maintain burst) = 2.80
BP x 225 (upper body strength) = 24
VJ (explosiveness, lower leg strength) = 33 BJ (explosiveness, hip strength) = 9-9
20yd shuttle (flexibility, burst, balance) = 4.30 60yd shuttle (flexibility, balance, endurance) = 11.8
3 cone = (agility, body control, cod) = 7.35 (min ) 4 square =
ARM= 33 HAND= 9 7/8
TEST= 20
DE CRITICAL FACTORS: .NFL DE's must be EXPLOSIVE, have QUICK HANDS, BASE CORE STRENGTH, and ATHLETIC enough to bend and play under balance with speed and quickness.
1. ATHLETIC ABILITY— QUICKNESS—quickness of feet in pass rush, hand quickness for pass rush moves, closing burst to qb, reaction to movement, pursuit speed. AGILITY— ability to run down ball carriers & rush the passer, ability to slide & beat his man 1 on 1 athletically, speed to pursue and chase, ability to move laterally. BALANCE— ability to stay on feet, cod.
2. STRENGTH/EXPLOSION— playing strength. STRENGTH— ability to overpower opponents with arm and leg strength., ability to stack and neutralize a block, ability to play through blocks, bull rush ability, ability to handle double teams. EXPLOSION—ability to explode into a tackle, ability to create & establish leverage on a blocker.
3. PLAYING SPEED/EDGE RUSH SPEED— START—acceleration/burst off los—initial quickness, quickness on movement, foot quickness. COD— ability to re-direct body, speed to chase & pursue the outside run, speed/quickness in short pursuit, closing quickness/speed to ballcarrier. STRIDE/FLUIDITY— length of stride, smoothness of runner.
4. COMPETITIVENESS— CLUTCH— win at all costs, wants to be best, plays with confidence & aggression, wants to be in charge with game on line. WORK ETHIC—works at being best on and off field. PRODUCTION— game film grade production.
5. SIZE– Type of body build, body development, growth potential or fully bulked.
6. UOH—quickness of hands, ability to replace and re-locate hands.
7. PURSUIT—angle, effort, quickness, short and long pursuit, step over trash staying balanced.
DE POSITION SPECIFICS:
8. (1) INITIAL QUICKNESS/FOOT QUICKNESS— quickness off LOS & response to movement, foot quickness on pass rush, lateral quickness down the line vs run.
9. (2) DEFEAT/SHED BLOCKS— UOH in pass rush and at POA, quickness of hand into opponent,
10. (3) KEY/DIAGNOSE/BLOCK RECOGNITION— ability to read & react to blocks and traps, ability to read/read to outside run, screens and draws, overall recognition, instincts and feel.
11. (4) TACKLING— VS INSIDE RUN— strength, leverage, play off blocks—overall effectiveness. VS OUTSIDE RUN— speed, quickness, cod, solid wrap in openfield, type tackler—hard or drag.
12. (5) RUN ABILITY/LATERAL MOVEMENT— pursuit ability—angles, effort, quickness, short & long pursuit., closing quickness. Raw speed.
13. (6) PASS RUSH ABILITY— feet, UOH, strength, closing quickness & burst, effort, one on one, double team, ability to handle trap.
14. (7) PLAY INSIDE RUN— power & leverage off blocks, fill hard, scrape and avoid.
15. (8) PLAY OUTSIDE RUN— lateral ability to skate and close, avoid trash ability.
16. (9) DURABILITY/STAMINA—can he play effective late in game or does he need to be spelled significantly.
17. (10) ANCHOR STRENGTH/NEUTRALIZE BLOCKS— brute strength and leverage to hold ground vs double teams and to beat single blocks.
SPECIAL TEAMS FACTORS
1. KICK BLOCKERS
SEQUENCIAL ORDER OF EVALUATING A DE ON A PLAY:
1. FIRST MOVE OFF BALL
2. 1 ON 1
3. PLAY DOUBLE TEAM
4. PLAY TRAP
5. HOW DOES HE PLAY RUN AT HIM
6. DEFEAT
7. SHED
8. TACKLE
9. HOW DOES HE PLAY THE RUN AWAY FROM HIM
10. LATERAL ABILITY
11. SHED ON MOVE
12. TACKLE ON MOVE
13. FIRST STEP ON PASS RUSH
14. PASS RUSH MOVES/SKILLS
15. USE OF HANDS ON PASS RUSH
16. SHED ABILITY—NOT STAYING BLOCKED
17. COD ON PASS RUSH
18. BURST TO QB
19. ABILITY TO PRESSURE AND NEGATIVELY AFFECT THE QUARTERBACK
20. CAN HE GET TO QB—FINISH
<FOR OUR MEMBERS, HERE IS HOW OUR DEFENSIVE END DRAFT BOARD STACKS UP. If you are not yet a member, take advantage of this limited time offer through the draft——By joining today, you get a 50% discount on the first month by using the code = LandryFootball. To get 25% off for a year, use the code = WarRoom——and get your own NFL Scouting Department for less than a magazine subscription.