Veteran NFL Scout Chris Landry serves as consultant to NFL teams so here is your chance to get information from a scouting professional who has set up draft boards as opposed to those bloggers and talking heads who have never worked in the league or seen the insides of a draft room.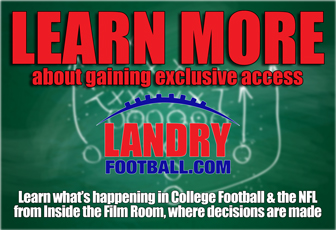 Here is the CORNERBACK draft board, along with Scouting Reports based on film grades.
Keep in mind that this is not a projection of where players will be drafted necessarily but rather where their grade value is. Supply and demand at each position has a tremendous affect on where players are drafted.
So here is a look at how I have them graded and ranked after you have a better understanding of how as scouts we evaluate CORNERBACKS.
CORNERBACK EVALUATION CRITERIA
NFL CORNERBACKS change with NFL RECEIVERS. With the increasing size, speed, and strength of receivers, CORNERS must match up physically. CB's are broken into 3 different types: 1.) MAN CORNERS 2.) ZONE CORNERS, and 3.) NICKLE CORNERS. Playing in the slot as a NICKLE requires you to play a lot of two way go routes, which is a different skill set than playing outside on the perimeter. NICKLE CORNERS must have not only elite speed but quickness as well. MAN CORNERS have to have the speed and quickness to stick with receivers all over the field. ZONE CORNERS must be physical to jam receivers off the LOS and force the receiver inside and they are not relied upon as much to cover the entire field.
AVERAGE NFL PHYSICAL TRAITS:
HEIGHT= 5114 (min ) WEIGHT= 193
40 (speed over distance) = 4.47 (min- 4.55) 10 (initial quickness) = 1.60 20 (maintain burst) = 2.65
BP x 225 (upper body strength) = 15
VJ (explosiveness, lower leg strength) = 36 BJ (explosiveness, hip strength) = 10-0
20yd shuttle (flexibility, burst, balance) = 4.00 60yd shuttle (flexibility, balance, endurance) = 11.2
3 cone = (agility, body control, cod) = 7.00 (min- ) 4 square =
ARM= 33 1/8 HAND= 9
TEST= 23 BACKPEDAL DRILL= 15 yards (shoulder over knees) = 2.7-2.8
BACKPEDAL-RECOVERY DRILL = (10 yd BP, then 10 yd forward sprint) = 3.86-4.00
BACKPEDAL & SPRINT DRILL = (10 yd Bp, then turn & sprint 20 yds) =
DC CRITICAL FACTORS: NFL teams worry about corners under 5'10 unless they have elite ball skills, closing speed and instincts to be compensated for. The most important qualities to play CB in the NFL are CLOSING SPEED, CONFIDENCE, BALL SKILLS and INSTINCTS. Corners must have short memories and put good and bad plays behind them. A CB must be able to transition out of his pedal, flip his hips and close on the ball and a corner must have the ability to play the ball in the air like a receiver. An underrated trait normally suited for Safety is Instincts. They must be able to recognize routes, and keep the QB in their vision. ZONE CORNERS while not having to be blazers, must have good short area speed.
1. ATHLETIC ABILITY— initial quickness in pedal, quick feet, hip flexibility, ability to turn, acceleration short & deep, ability to run with receivers in short to deep coverage, closing on man after he makes final move both short & deep.
2. STRENGTH/EXPLOSION— toughness, effectiveness in run support,, physical tackler, ability to play through blocks,
3. PLAYING SPEED— ability to cover man to man, distance covered after ball is in air, pursuit ability in run support,
4. RANGE— area covered with ball in air,
5. BACK PEDAL— smoothness, quickness, explosion, balance, staying low,
6. COBP—burst coming out of his pedal,
7. CONFIDENCE/COMPETITIVENESS— CLUTCH—win at all costs, desire to be best, plays with confidence & aggression, wants game on line pressure, WORK ETHIC— committed to being best on & off field. PRODUCTION—grade film effectiveness,
8. SIZE— size requirements, type of build, growth potential or fully bulked,
DC POSITION SPECIFICS:
9. (1) KEY & DIAGNOSE— recognition, ball reactions—how he plays the ball as it get close to him in flight, discipline/awareness in zone coverage, ability to read/recognize combo routes, locate ability on misdirections.
10. (2) TURN & RUN SKILLS/SPEED— transition speed from pedal to turn and run sprint.
11. (3) COVERAGE CALLS— ability to recognize formations and adjustments quickly and then quickly and effectively communicate those to defensive mates.
12. (4) RUN SUPPORT—END RUN & INTERIOR RUN— ability to play off
blockers,toughness/effectiveness as a hitter & tackler, speed/pursuit ability. Can he squeeze lane.
13. (5) TACKLING— drag or hard tackler, open field ability, leverage/explosion,
14. (6) MAN TO MAN COVER ABILITY— back pedal, feet, hip & body turn, ability to accelerate
short & deep, ability to run with receivers.
15. (7) JAM/COVER TE—physical strength to control at los,
16. (8) ZONE COVER ABILITY— adjustments to zone, discipline & awareness in zone, range,
closing quickness, man cover principles within zone, how much cushion does he have to play
with.
17. (9) BALL SKILLS— ability to track the ball in flight, timing of jumps, play the ball at high
point,
18. (10) HANDS— soft or hard, body catch/trapped balls or catch out of frame, eye/hand coordination, concentration,
19. (11) CLOSE— closing on man after he makes his final move—both short and deep.
SPECIAL TEAMS FACTORS
1. RETURNERS
2. COVERAGE
SEQUENCIAL ORDER OF EVALUATING A DC ON A PLAY:
1. READ & INSTINCTS
2. FOOT QUICKNESS
3. BUMP
4. BACK PEDAL
5. TURN
6. COBP
7. CLOSE
8. RANGE
9. BURST
10. CATCHUP
11. BALL REACTIONS
12. MAN COVERAGE
13. ZONE COVERAGE
14. CONTAIN RUN
15. WARD OFF BLOCKS
16. TACKLING
17. BLITZ
<FOR OUR MEMBERS, HERE IS HOW OUR CORNERBACK DRAFT BOARD STACKS UP. If you are not yet a member, take advantage of this limited time offer through the draft——By joining today, you get a 50% discount on the first month by using the code = LandryFootball. To get 25% off for a year, use the code = WarRoom——and get your own NFL Scouting Department for less than a magazine subscription.