We've broken down the tape all season and offer you unit by unit scouting reports and grades for each player on the team indicating needs of help and impending free agents.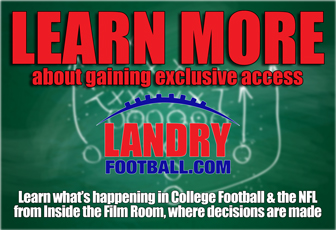 We give you a free season recap and for our WAR ROOM members, a complete NFL Pro Personnel Scouting Report on each position and player, including season grades.
Have your own NFL Scouting Department for less than a magazine subscription.
By joining today, you get a 50% discount on the first month by using the code = LandryFootball. To get 25% off for a year, use the code = WarRoom
================
TENNESSEE TITANS
================
INSIDE SLANT
Titans go out with a win and a whimper
The Tennessee Titans finished 2016 better than most expected, but still not good enough.
The Titans ended the season at 9-7 and technically tied for first place in the AFC South. But because of their shortcomings inside the division, it was the Houston Texans, whom the Titans defeated in Sunday's finale, 24-17, who will head to the playoffs instead of a Tennessee team that might have been the most capable to win in the playoffs – at least before Marcus Mariota's season-ending injury.
As it is, the Titans are left to ponder how things unfolded this season – especially their inexcusable 38-17 blowout loss at Jacksonville that eventually killed their playoff hopes – and try to build for next season when they should be one of the favorites to win the division title.
"Definitely, hands down," defensive end Jurrell Casey said of the theory that the Titans should have been the best team in the AFC South. "It was just one mistake here or there that let those teams catch up and win against us. If we clean those mistakes up, then we would have beat all these teams with a sweep. We've got confidence that we can do that. So next year, the South Division had better be ready."
Veteran tight end Delanie Walker didn't disagree with that notion either.
"We'd rather be in the playoffs. It's just a bad feeling in your stomach after this game, knowing that we probably were the better team in this division," Walker said after Sunday's season-ending 24-17 victory.
The Titans still have areas that need improvement – the secondary, special teams and more speed on the outside at wide receiver are all places where upgrades are needed for next year.
But given that the Titans won just five games total in the previous two seasons, a six-game improvement in 2016 should not be all that disappointing.
Tennessee is also hopeful that it serves notice that the Titans, who have victories over five of the teams that qualified for the playoffs this season, should be a definite contender going forward.
"We're letting everybody know that we're going to be the team in this division," said center Ben Jones, who left the Texans and joined the Titans as a free agent in the offseason. "We came into a couple of games with some key situations where we didn't execute, but we know we're right there, so we can make this division our house beginning next year."
NOTES, QUOTES
–Running back DeMarco Murray wound up leading the AFC in rushing and finishing third in the league in that category with 1,287 yards this season. Murray had his lowest output of the year in Sunday's finale with just 21 yards on l1 carries before giving way to Derrick Henry for most of the second half.
Murray also revealed after the game what his toe injury was exactly. Murray sustained a torn plantar plate in his right foot on Oct. 27 against Jacksonville and played the remainder of the season with that injury.
Murray is hopeful that an offseason of rest is all that will be required for the injury to heal.
"It's all about rest and if it feels good after some time, I think we'll skip the surgery," Murray said. "But if not, I think that's something that (Titans trainer) Todd (Toriscelli) and those guys will have to decide and we'll come up with a game plan."
Before Murray begins his rest, he said he plans to play in the Pro Bowl as one of five Titans selected for the game. He could have easily skipped the game as he is nursing an injury, but indicated that as of now his plans are to play in the Jan. 29 all-star game.
"I probably will. I think if you have an opportunity to play in the Pro Bowl (you should). I heard Peyton Manning say that if you have an opportunity to play in the Pro Bowl, it's your right to do it," Murray said. "It's a privilege to play with all the other athletes. You're voted in by all the other players and coaches. But I'll probably play in the Pro Bowl just to have the respect for the game and this organization."
–Wide receiver Kendall Wright basically bid adieu to the Titans organization after five years on Monday. Wright, who was a healthy scratch in his final game for the team on Sunday, saw the writing on the wall for his career in Tennessee.
"I've been here for a long time. I came here five years ago, and I gave the Titans everything I had for five years. I mean it didn't work out," Wright said. "I'll be glad to see what I can do in free agency, make a team fall in love with me and go there do what I know I can do."
Wright, the club's first-round choice in 2012, saw his role and his stats steadily decline from a high of 94 receptions in 2013 to just 29 this season.
On being a healthy scratch for the final game of his Titans career, Wright said he felt like the team had moved on without him when he was inactive on Sunday.
"I knew. Yesterday I saw the 2017 Tennessee Titans, and I'm not a part of the 2017 Tennessee Titans. That's probably the plan. It is what it is. I mean I respect everybody in the building," Wright said.
He said he has no hard feelings and believes the Titans have a bright future, but he is also ready for his next chapter.
"I don't know. I guess I didn't fit the system – the many systems that came through. I think they have something good, and I think they'll win a lot of games," Wright said. "For me, it's time for me to grind. I feel like I'm free."
STRATEGY AND PERSONNEL
COACHING CHANGES
–Additions: WR coach Frisman Jackson; assistant special teams coach Craig Auckerman.
–Won't return: WR coach Bob Bratkowski; assistant WR coach Jason Tucker.
ENCLOSED FOR OUR WAR ROOM MEMBERS ARE POSITION UNIT ANALYSIS AS WELL AS SEASON GRADES FOR EACH PLAYER.
Become the smartest and most informed person in the room by getting NFL Pro Personnel style Scouting Reports and Grades from INSIDE THE FILM ROOM from veteran NFL Coaches and Scouts.
Have your own NFL Scouting Department for less than a yearly magazine subscription. By joining today, you get a 50% discount on the first month by using the code = LandryFootball. To get 25% off for a year, use the code = WarRoom.
ENCLOSED IS THE NFL PLAYER GRADING SYSTEM USED BY NFL TEAMS AND SEE HOW PLAYERS GRADED OUT FOR THE SEASON AS THEY ENTER THE OFFSEASON EVALUATION PERIOD FOLLOWED BY FREE AGENCY AND THE DRAFT.
(BLUE) = BLUE players are the top line players in the league. BLUE Players make the plays that are the difference in close games. They have Superior talent and consistently make big plays.
(RED) = RED players win for you. They have starter type production in the league. The Top line REDS are usually BLUE in either the running or passing game but fall short in the other. RED players are impact players and start on contending teams.
(PURPLE) = PURPLE players are players that you can win with even if they are not players that can win for you. They are usually RED in some areas and can match up with some REDS but overall fall short of REDS. PURPLES are very good players. They are solid starters who will usually get the job done in at least some areas. The Pro Personnel scouting axiom is to not play anyone below a PURPLE.
(GREEN) = GREENS are young players with upside potential. While you may not be able to currently play them much, it is due to inexperience and not physical or intangible traits. You cannot to play too many GREENS unless you are in a rebuilding year or out of playoff contention.
The above 3 rating areas are the minimum of what a club must have to win. Any Player below purple must be upgraded or the club does not match up at that position creating a mismatch advantage for their opponents.
(ORANGE) = An ORANGE player is one with backup ability and/or production only. They do not match up versus the REDS and are dominated by the BLUES. An ORANGE should make your squad only if they are a RED or BLUE special teamer. Otherwise, you must replace your ORANGES.
(YELLOW) = A YELLOW player is one who lacks the ability and skills to contribute even as a backup OR someone who has serious medical or character issues. In any of these cases, these players are not worth developing.
INJURED PLAYER (GRAY) = A injured player is designated by a GRAY coloring or circling as even though he currently is not producing, he must be kept alive based on previous ability and skill level and anticipated return of health.
***When you see a players name Multi-colored, this denotes a combination grade.**