We've broken down the tape all season and offer you unit by unit scouting reports and grades for each player on the team indicating needs of help and impending free agents.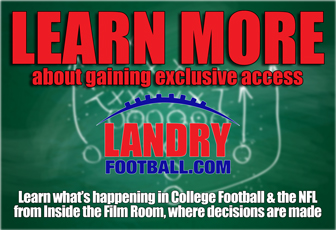 We give you a free season recap and for our WAR ROOM members, a complete NFL Pro Personnel Scouting Report on each position and player, including season grades.
Have your own NFL Scouting Department for less than a magazine subscription.
By joining today, you get a 50% discount on the first month by using the code = LandryFootball. To get 25% off for a year, use the code = WarRoom
===============
OAKLAND RAIDERS
===============
INSIDE SLANT
Raiders exec says move to Vegas still a go
The loss of financial backers won't stop the Oakland Raiders in their attempt to move to Las Vegas, team president Marc Badain told the Las Vegas Stadium Authority Board on Thursday.
Last week, casino mogul Sheldon Adelson pulled his $650 million pledge from the proposed $1.9 billion stadium project, and finance giant Goldman Sachs also stepped away from the plan.
However, Badain said at the board meeting, "A process like this has stops and starts, but you should know that the organization remains fully committed to this project. (Raiders owner) Mark Davis made a commitment to Gov. (Brian) Sandoval and we intend to see that through. We are not deterred, and financing will not be an issue."
While not naming potential backers, Badain said, according to ESPN.com, "You'd be surprised how many people are interested in funding this project."
Authority Board chairman Steve Hill told the Las Vegas Review-Journal that he remains optimistic the Raiders can secure the funding to build the proposed 65,000-seat stadium for the NFL team and the UNLV football team.
"We've heard from a broad variety of people, but it's the Raiders' job, it is not our job to develop the private component of the financing," Hill said. "I know they're working on it and I appreciate them providing the update. It's great to hear that (Badain) is confident that financing will be available, but we're not a part of those negotiations."
Nevada state lawmakers previously approved $750 million in public funding for a stadium to be paid by a Las Vegas-area hotel tax, and the Raiders have pledged $500 million.
Badain also apologized over wording in the proposed lease that would have limited UNLV's use of the stadium.
"There won't be any issues between us and UNLV over field markings," Badain said, according to the Review-Journal. "I'm sorry that got blown out of proportion."
Before the Raiders could move, they not only would need to get the stadium financing in place, but they also would need approval from 24 of the 32 NFL team owners.
–The Raiders are on the move under head coach Jack Del Rio, having improved by four wins in his first season and five in his second.
Going from 3-13 to 7-9 to 12-4 in the last three seasons, the Raiders gave their success-starved fan base the first winning season since 2002, not to mention the first playoff berth.
Now the mission for Del Rio and general manager Reggie McKenzie is maintaining playoff success, which is as much or more difficult than actually getting there.
The Raiders have a franchise quarterback in place in Derek Carr, an elite edge rusher and defender in Khalil Mack, cornerstones for the next several years. They have one of the NFL's best offensive lines and explosive receivers and backs.
The offseason will be about locking up Carr and Mack to extensions and fixing a defense that too often needed to be bailed out by Carr and his late-game heroics.
The Raiders were big-time players in free agency last year, with mostly good results. It's unlikely they'll make the kind of splash McKenzie did a year ago by locking up guard Kelechi Osemele, linebacker Bruce Irvin and cornerback Sean Smith.
McKenzie's a draft-and-develop guy anyway, and the hope is last year's so-so class can show improvement with the addition of some talent to the point where the Raiders don't have to sweat out so many close games.
NOTES, QUOTES
–Jack Del Rio is getting a new contract after leading the Oakland Raiders to the playoffs this past season.
The team announced that Del Rio's original four-year contract was being replaced with a new four-year deal. The Raiders did not disclose financial terms of the new agreement.
"The Raiders have torn up Jack Del Rio's original contract and rewarded him with a new four-year deal," Raiders owner Mark Davis said in a news release." We are excited to continue building on the strong foundation that has been established and this is a significant step in achieving that goal."
The 53-year-old Del Rio took the job in January 2015, after the Raiders had gone 3-13. He led the Raiders to a 7-9 record in his first season. This year, he guided Oakland to the playoffs for the first time since the 2003 season. The team went 12-4 during the regular season while contending for the AFC West title.
The Raiders were poised for a playoff run, but rising star quarterback Derek Carr suffered a broken right leg in the next-to-last game of the regular season. Without him in the playoffs, Oakland lost to the Houston Texans in the wild-card round.
Del Rio became the franchise's ninth coach after serving as Denver Broncos defensive coordinator from 2012 to 2014 and head coach of the Jacksonville Jaguars from 2003 to 2011.
–Head coach Jack Del Rio said the Raiders' roster makeup will have a lot to do with the status of Carr, whom McKenzie hopes to sign to a multi-year extension. Carr is entering the last year of his contract and McKenzie said he would rather have him signed going into the 2017 season than have to deal with the issue coming out of it.
Carr's cap number of just over $1.7 million would go up considerably, although the first-year hit could be lessened by spreading out bonus money over the life of the deal.
"You can't keep everybody, you can't pay everybody," Del Rio said. "Especially when you start paying your quarterback what he's going to end up making. I'm sure it's going to be a very nice amount. We've been able to do a lot more other places because we haven't had to put a lot in the quarterback number. As that number goes up, it will limit some of the things we can do."
Mack's contract also expires at the end of 2017, but as a first-round pick the Raiders can extend him another season if necessary — although McKenzie's goal would be to have both players locked up this offseason.
–Wide receiver Amari Cooper was voted to the Pro Bowl but faded for the second consecutive season, catching 31 passes for 366 yards with no 100-yard gains over the last eight games of the season.
Last year, Cooper was hurt. Although he was listed with a shoulder injury for much of the second half of the season, Del Rio doesn't think health was an issue.
"Last year I think it was clearly involved with his foot," Del Rio said. "Don't believe he was dealing with a similar type of injury. Was the guy he was going against good enough to get him slowed down? Was it scheme? Those are things we have to look at in detail."
–There was some heat on offensive coordinator Bill Musgrave and defensive coordinator Ken Norton Jr. from the fan base. Musgrave was criticized for being too conservative early in the playoff loss, while Norton's defense was spotty all season.
Del Rio was non-committal about any changes, saying he had good group. The Raiders retained their entire staff a year ago. However, reports were persistent that Musgrave will not be back.
As for questions about strategy, Del Rio said, "People always want to get into play-calling. That's the first area that everybody that plays Madden thinks they have it figured out. I can't worry too much about those types of things."
–Carr, while still using a scooter to get around, said he had intended on playing in Super Bowl LI had the Raiders gotten that far. Conventional wisdom — as well as medical experts who admittedly never saw Carr's X-rays — were that he was done for the year.
"I see doctors on Twitter tagging me. They don't have a clue what's going on," Carr said. "It's weird, with no X-rays or MRIs they've got it all figured out. If they can do that, they shouldn't be on Twitter. They should be at Stanford or something."
Carr promised the Raiders would come back strong.
"Our team is going to come back," Carr said. "We're going to add pieces like we do every year. I just got done with a meeting with (quarterbacks coach) Todd Downing on the things I need to get better at. I'm going to work my butt off."
Del Rio was non-committal on when Carr would join the offseason program.
"I know he was thinking he was going to play in the Super Bowl," Del Rio said. "That being his mindset, he's coming along nicely. I don't want to guess on anything though. He's got time to recover the right way and we'll expect him back at full strength soon."
–As Raiders players cleaned out their lockers, there was a reluctance to blame the injuries to Carr and left tackle Donald Penn (who missed the playoff game with a knee injury) simply because it's the way of the NFL.
"Everybody at this level has what it takes to get the job done," linebacker Perry Riley Jr. said. "We trust everybody."
Long snapper Jon Condo said, "You never know what can happen in the playoffs. There are huge upsets in every sport every year. And if we had won, it wouldn't even have been much of an upset. Things just didn't work out."
Wide receiver Andre Holmes conceded things were different without Carr.
"It's just a different feel out there when we couldn't move the ball the way we're accustomed to," Holmes said. "I thought Connor Cook did a great job having not practiced and not started a game all year. It took a lot of guts. But it was tough … if D.C. was healthy there would be more people in this locker room right now."
STRATEGY AND PERSONNEL
COACHING CHANGES
–Additions: Assistant head coach/defense John Pagano.
–Won't return: OC Bill Musgrave; DB coach Marcus Robertson.
ENCLOSED FOR OUR WAR ROOM MEMBERS ARE POSITION UNIT ANALYSIS AS WELL AS SEASON GRADES FOR EACH PLAYER.
Become the smartest and most informed person in the room by getting NFL Pro Personnel style Scouting Reports and Grades from INSIDE THE FILM ROOM from veteran NFL Coaches and Scouts.
Have your own NFL Scouting Department for less than a yearly magazine subscription. By joining today, you get a 50% discount on the first month by using the code = LandryFootball. To get 25% off for a year, use the code = WarRoom.
ENCLOSED IS THE NFL PLAYER GRADING SYSTEM USED BY NFL TEAMS AND SEE HOW PLAYERS GRADED OUT FOR THE SEASON AS THEY ENTER THE OFFSEASON EVALUATION PERIOD FOLLOWED BY FREE AGENCY AND THE DRAFT.
(BLUE) = BLUE players are the top line players in the league. BLUE Players make the plays that are the difference in close games. They have Superior talent and consistently make big plays.
(RED) = RED players win for you. They have starter type production in the league. The Top line REDS are usually BLUE in either the running or passing game but fall short in the other. RED players are impact players and start on contending teams.
(PURPLE) = PURPLE players are players that you can win with even if they are not players that can win for you. They are usually RED in some areas and can match up with some REDS but overall fall short of REDS. PURPLES are very good players. They are solid starters who will usually get the job done in at least some areas. The Pro Personnel scouting axiom is to not play anyone below a PURPLE.
(GREEN) = GREENS are young players with upside potential. While you may not be able to currently play them much, it is due to inexperience and not physical or intangible traits. You cannot to play too many GREENS unless you are in a rebuilding year or out of playoff contention.
The above 3 rating areas are the minimum of what a club must have to win. Any Player below purple must be upgraded or the club does not match up at that position creating a mismatch advantage for their opponents.
(ORANGE) = An ORANGE player is one with backup ability and/or production only. They do not match up versus the REDS and are dominated by the BLUES. An ORANGE should make your squad only if they are a RED or BLUE special teamer. Otherwise, you must replace your ORANGES.
(YELLOW) = A YELLOW player is one who lacks the ability and skills to contribute even as a backup OR someone who has serious medical or character issues. In any of these cases, these players are not worth developing.
INJURED PLAYER (GRAY) = A injured player is designated by a GRAY coloring or circling as even though he currently is not producing, he must be kept alive based on previous ability and skill level and anticipated return of health.
***When you see a players name Multi-colored, this denotes a combination grade.**