We've broken down the tape all season and offer you unit by unit scouting reports and grades for each player on the team indicating needs of help and impending free agents.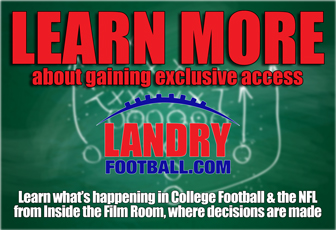 We give you a free season recap and for our WAR ROOM members, a complete NFL Pro Personnel Scouting Report on each position and player, including season grades.
Have your own NFL Scouting Department for less than a magazine subscription.
By joining today, you get a 50% discount on the first month by using the code = LandryFootball. To get 25% off for a year, use the code = WarRoom
====================
LOS ANGELES CHARGERS
====================
INSIDE SLANT
Chargers name Lynn head coach
The Los Angeles Chargers made their first official transaction, naming Anthony Lynn as the team's new head coach. Lynn, 48, joins the Chargers after serving as the Buffalo Bills Assistant Head Coach and Running Backs Coach in 2015-16. Lynn was also Buffalo's interim head coach at the end of the season following the firing of Rex Ryan.
"One thing that's very clear about Anthony Lynn is he's a leader. He's a natural-born leader," said Chargers president of football operations John Spanos. "As you can tell, I am very excited about the leadership qualities he's going to bring to our team. He is really going to communicate and connect with our players. He's had a number of great coaching influences in his life and as a former player who won two Super Bowls, Anthony knows first-hand what championship pedigree is all about. We couldn't be more excited to have him lead our franchise into this exciting new era of Chargers football."
"I'm having a hard time even putting into words how excited I am to be the new head coach for the Los Angeles Chargers," said Lynn. "This is really a dream come true. I want all of our fans to know that we're going to start by putting together a great staff and we're going to put together a team with the heart and will of a champion. I know there's a lot of work to be done and I'm going to give everything I have to the Chargers, the Spanos family and the City of Los Angeles."
"Our fans are going to be very excited with Anthony Lynn taking the reins here with the Chargers," said General Manager Tom Telesco. "Anthony has a commanding presence and brings a no-nonsense approach. He is going to be a great leader and we're confident he's going to lead the Chargers to great success that our fans have come to expect out of this organization."
A native of Celina, Texas, Lynn was an All-Southwest Conference running back as a collegian at Texas Tech University, where he rushed for 1,911 yards and 17 touchdowns on 481 carries. That helped him earn a ticket to the NFL where he signed with the New York Giants as an undrafted free agent in 1992. Lynn signed with the Denver Broncos in 1993 and appeared in 13 games. In 1994, he suffered a broken leg and spent the year on injured-reserve. In 1995, he moved on to the Bay Area, spending two seasons with the San Francisco 49ers (1995-96) before concluding his career in Denver with the Broncos (1997-99). In Denver, he won back-to-back Super Bowl championships (XXXII and XXXIII). Lynn retired after the 1999 season, having played in 83 career games.
Lynn jumped right into the coaching ranks in 2000, spending three seasons (2000-02) with the Broncos as an offensive assistant and assistant to special teams. In 2003, he landed his first full-time position gig as the running backs coach for the Jacksonville Jaguars (2003-04). That was followed by similar positions with the Dallas Cowboys (2005-06), Cleveland Browns (2007-08), New York Jets (2009-14) and the Bills (2015-16). Lynn carried the title of assistant head coach in New York in 2014 and with the Bills for his two seasons there.
Lynn spent the last two seasons (2015-16) with the Bills, including the final game of the 2016 season as the team's interim head coach. Buffalo led the NFL in both of Lynn's seasons with the Bills in both rushing yards (2,630 in 2016 and 2,432 in 2015) and rushing touchdowns (29 in 2016 and 19, tie in 2015). In Los Angeles, Lynn will take over a team with a workhorse running back in Melvin Gordon, who broke out with 997 yards on the ground, 1,416 yards from scrimmage and 12 total touchdowns in 2016. The Bills also led the League in average yards per carry (5.3 in 2016 and 4.8, tie in 2015) in each of his two seasons in Upstate New York. More impressively over his last two coaching stops (New York and Buffalo), his teams combined to rush for 18,218 yards during that span (2009-16), the most combined yards in the NFL over that time period.
–The Chargers are bolting to Los Angeles and leaving San Diego behind.
Owner Dean Spanos officially announced his plans to move the franchise to Los Angeles on Thursday morning after 56 seasons in San Diego.
San Diego Mayor Kevin Faulconer wasn't thrilled with the way he said Spanos fumbled the team's departure.
"San Diego didn't lose the Chargers. The Chargers just lost San Diego," Faulconer said just hours after the team officially bolted.
Faulconer told reporters he learned of the news from NFL commissioner Roger Goodell on Wednesday night, but did not hear from Spanos until the team announced the move online.
Faulconer described the turn of events as "extremely frustrating" and said that Spanos made a decision that he would regret, leaving behind a strong market and loyal fan base.
In a letter on the team's website, Spanos wrote, "After much deliberation, I have made the decision to relocate the Chargers to Los Angeles, beginning with the 2017 NFL season. San Diego has been our home for 56 years. It will always be part of our identity, and my family and I have nothing but gratitude and appreciation for the support and passion our fans have shared with us over the years.
"But today, we turn the page and begin an exciting new era as the Los Angeles Chargers.
"L.A. is a remarkable place, and while we played our first season there in 1960 and have had fans there ever since, our entire organization knows that we have a tremendous amount of work to do. We must earn the respect and support of L.A. football fans. We must get back to winning. And, we must make a meaningful contribution, not just on the field, but off the field as a leader and champion for the community. The Chargers are determined to fight for L.A. and we are excited to get started."
The Chargers got started by changing their Twitter handle to include Los Angeles on Thursday and also unveiled a new team logo.
"Our ultimate goal is to bring L.A. a Super Bowl championship," said John Spanos, president of football operations. "When we say we will fight for L.A., this is the essence of our pledge."
Spanos' decision came one day after he told NFL commissioner Roger Goodell and other league officials of his intentions following the committee meetings on Wednesday.
The move is a homecoming of sorts, as the Chargers' initial season (1960) in the American Football League was played at Los Angeles Memorial Coliseum before the team moved south.
The Chargers are expected to play their home games for the next two seasons at the 30,000-seat StubHub Center, which is located on the campus of California State University Dominguez Hills in Carson, Calif. The venue is the home of the Los Angeles Galaxy of Major League Soccer. In 2019, they will begin play in the Inglewood, Calif., stadium being built by Los Angeles Rams owner Stan Kroenke.
"The experience for our fans at StubHub Center will be fun and entertaining, and every seat will feel close to the action," said A.G. Spanos, president of business operations for the Chargers.
"This is a unique opportunity to see NFL action in such an intimate setting. The new stadium at Hollywood Park will be a tremendous stage, and we can't wait to play there, but right now it's about introducing ourselves and getting to know new fans and partners in a special, one-of-a-kind setting."
Owner Dean Spanos had until Tuesday to exercise the option to move to Los Angeles. He is expected to pay the $550 million relocation fee over 10 years, rather than extend the payments beyond that for an additional $100 million.
Spanos made attempts to keep the team in San Diego, but a November ballot measure for a new stadiium was voted down, receiving just 43 percent of the vote.
The Chargers played in just one Super Bowl during their San Diego tenure, falling to the San Francisco 49ers after the 1994 season.
The list of legendary players to play for the club include receiver Lance Alworth, quarterback Dan Fouts, tight end Kellen Winslow and linebacker Junior Seau.
Running back LaDainian Tomlinson and former coach Don Coryell are among the 15 finalists for the 2017 Pro Football Hall of Fame class.
The Chargers went 9-23 over the past two seasons and fired coach Mike McCoy. The team has yet to hire a new coach.
NOTES, QUOTES
–The Chargers have set their sights on next season and it can't get any worse, right?
In the hours after capping a 5-11 season with a loss to the Kansas City Chiefs, the Chargers dismissed head coach Mike McCoy.
That put a bow on a season full of distractions, the biggest one being the November vote to get taxpayers to pay for a downtown stadium.
Like the Chargers, that failed as well.
So it's on to next season, a season in which the Chargers currently don't know where they'll be playing or who'll they'll be coached by. The location decision should arrive by Jan. 15, while the call on the coach might take a little longer.
But the theme in setting sail for next year is that the Chargers, winners of nine games in two seasons, aren't that far away from respectability.
"I think we have a good core of young players," said general manager Tom Telesco, who avoided getting canned despite him telling the coach he hired to walk the plank. "I do think there's a bright future ahead."
It's a plausible argument, with a backfield featuring quarterback Philip Rivers and running back Melvin Gordon. And a defense with rising stars, end Joey Bosa and cornerback Jason Verrett.
Plus, the Chargers aren't expecting a league-high 20 players to land on injured reserve.
"I believe we have a window in the next few of years to be great," Rivers said. "I truly believe that."
Disgruntled Chargers fans hope Rivers is right.
–The Chargers signed six players to future contracts: safety Adrian McDonald, tight end Jake McGee, tackle Brett Boyko, cornerback Randall Evans, cornerback Mike Lee and linebacker Chris McClain.
STRATEGY AND PERSONNEL
–Additions: Head coach Anthony Lynn; special teams coordinator George Stewart; DC Gus Bradley.
–Retained: OC Ken Whisenhunt; DB coach Ron Milus; DL coach Giff Smith.
ENCLOSED FOR OUR WAR ROOM MEMBERS ARE POSITION UNIT ANALYSIS AS WELL AS SEASON GRADES FOR EACH PLAYER.
Become the smartest and most informed person in the room by getting NFL Pro Personnel style Scouting Reports and Grades from INSIDE THE FILM ROOM from veteran NFL Coaches and Scouts.
Have your own NFL Scouting Department for less than a yearly magazine subscription. By joining today, you get a 50% discount on the first month by using the code = LandryFootball. To get 25% off for a year, use the code = WarRoom.
ENCLOSED IS THE NFL PLAYER GRADING SYSTEM USED BY NFL TEAMS AND SEE HOW PLAYERS GRADED OUT FOR THE SEASON AS THEY ENTER THE OFFSEASON EVALUATION PERIOD FOLLOWED BY FREE AGENCY AND THE DRAFT.
(BLUE) = BLUE players are the top line players in the league. BLUE Players make the plays that are the difference in close games. They have Superior talent and consistently make big plays.
(RED) = RED players win for you. They have starter type production in the league. The Top line REDS are usually BLUE in either the running or passing game but fall short in the other. RED players are impact players and start on contending teams.
(PURPLE) = PURPLE players are players that you can win with even if they are not players that can win for you. They are usually RED in some areas and can match up with some REDS but overall fall short of REDS. PURPLES are very good players. They are solid starters who will usually get the job done in at least some areas. The Pro Personnel scouting axiom is to not play anyone below a PURPLE.
(GREEN) = GREENS are young players with upside potential. While you may not be able to currently play them much, it is due to inexperience and not physical or intangible traits. You cannot to play too many GREENS unless you are in a rebuilding year or out of playoff contention.
The above 3 rating areas are the minimum of what a club must have to win. Any Player below purple must be upgraded or the club does not match up at that position creating a mismatch advantage for their opponents.
(ORANGE) = An ORANGE player is one with backup ability and/or production only. They do not match up versus the REDS and are dominated by the BLUES. An ORANGE should make your squad only if they are a RED or BLUE special teamer. Otherwise, you must replace your ORANGES.
(YELLOW) = A YELLOW player is one who lacks the ability and skills to contribute even as a backup OR someone who has serious medical or character issues. In any of these cases, these players are not worth developing.
INJURED PLAYER (GRAY) = A injured player is designated by a GRAY coloring or circling as even though he currently is not producing, he must be kept alive based on previous ability and skill level and anticipated return of health.
***When you see a players name Multi-colored, this denotes a combination grade.**