We've broken down the tape all season and offer you unit by unit scouting reports and grades for each player on the team indicating needs of help and impending free agents.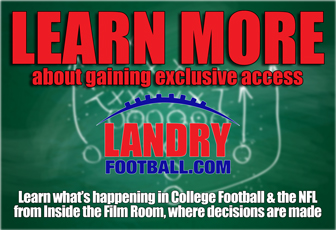 We give you a free season recap and for our WAR ROOM members, a complete NFL Pro Personnel Scouting Report on each position and player, including season grades.
Have your own NFL Scouting Department for less than a magazine subscription.
By joining today, you get a 50% discount on the first month by using the code = LandryFootball. To get 25% off for a year, use the code = WarRoom
==================
KANSAS CITY CHIEFS
==================
INSIDE SLANT
Reid scrutinizes Chiefs tough instant replay
A couple hours after Kansas City's 18-16 loss to Pittsburgh, Chiefs head coach Andy Reid left Arrowhead Stadium, drove down the hill and pulled into his parking spot at the team's nearby facility.
Reid went to his office on the building's second floor, turned on his computer and began watching the action that had just ripped out his guts, that of his team and community.
Why put yourself through that type of pain so quickly? That's just Reid and his grinding approach to the job.
There was a game to wrap-up, with work on closing out a season on the horizon as well. His mind already clicked into what he could do to make sure his team didn't feel this type of disappointment again.
"There's just a finalization to it that hits you right in between the eyes," Reid said. "I don't want to get away from the fact that the team had a good year. At the same time, we have to take care of business and improve as we go forward here and learn from this.
"Little things add up. I have to make sure I take care of that. We have to eliminate some of the penalties and things. I still felt like after watching the tape that we had an opportunity there to win the game. Single elimination — this is how it works. We're all big boys, and we have to learn from it and move forward."
Soon enough, there are plenty of issues that Reid and general manager John Dorsey will have to address in the coming months to form the foundation of what will be the 2017 Chiefs. Here are just a few items that will pop up on their radar screen:
–What is Dorsey's future with the Chiefs? The general manager is in the final year of his contract signed in January 2013. Rumors abound that Dorsey is the first choice in Green Bay if Packers executive vice-president-general manager Ted Thompson decides to slide out of those roles.
On Tuesday, Thompson celebrated his 64th birthday. Dorsey played and scouted for the Packers for 27 seasons, leaving Wisconsin to take the Chiefs' job alongside Reid. He will be 57 years old in August.
The combination of Reid and Dorsey has worked well over four years for the Chiefs and ownership hopes to continue their reign. Reid has one more season to go on his 5-year contract.
–Is the commitment to quarterback Alex Smith still firm from his head coach and general manager?
Over four seasons with the Chiefs, Smith's record as starting quarterback in the playoffs is 1-3. That's in direct opposition to his 41-20 record that led the team to the postseason three of the last four years.
When asked directly this week whether Smith remained his No. 1 quarterback, Reid indicated his belief in the 32-year old veteran remains.
"I was here till two in the morning going back through the tape and looking at it," Reid said. "All that stuff, that's the last thing on my mind right now. … I still think we can win with Alex.
"We were right there. He made a phenomenal throw on the two-point play to put us into position to take care of business. This wasn't all about Alex. That's not what this was — or with his performance and what it came down to. That's how I feel."
Part of the discussion about Smith and the future of the quarterback position will include Nick Foles.
Signed in August after he was released by the Los Angeles Rams, the 27-year old Foles started one game and looked good in other small opportunities. He finished with a passer rating of 105.9 on a much smaller sample size than Smith's final 91.2 rating in the regular season.
If Smith and Foles stay at their current salary cap numbers, they will account for $27.6 million of the team's spending limit in 2017.
–Can the Chiefs keep safety Eric Berry and defensive tackle Dontari Poe? Both players have been important elements in the Chiefs defense over the last four years, but both will become unrestricted free agents. Berry was in that spot last year, and when negotiations dragged on, the Chiefs tagged him as the franchise player. They could do that again in 2017, at 120 percent of his $10.8 million tender he played under last season, or right at $13 million.
The last two seasons have been the best of Berry's seven years with the Chiefs. Playing in all 35 of the team's regular and postseason games after his fight against Hodgkin's lymphoma, he racked up 155 total tackles, seven interceptions plus another on a 2-point play. He knocked down 21 other passes and forced a fumble.
"I think everybody here would love to have Eric back," Reid said. "We feel he's a big part of the team. I don't think that's different in the front office than it is right here as I'm speaking. You just have to wait those things out and see how it goes. That's one of those things that's going to take time to see how it rolls."
Poe finished the regular season with 27 tackles, 1.5 sacks, nine quarterback pressures, a forced fumble and three pass deflections. He also ran for one touchdown and threw another on offense.
Against Pittsburgh in the playoffs, he had four tackles and one tipped pass.
–Will they keep a trio of dented veterans, all now 30 or older: running back Jamaal Charles (30), and linebackers Tamba Hali (33) and Derrick Johnson (34)?
Charles and Hali are dealing with knee problems and Johnson with his second ruptured Achilles in three years. All are under contract for 2017, and hold salary cap numbers of $7 million (Charles), $8.583 million (Hali) and $7,750 million (Johnson). Charles would be the biggest money saver under the cap, with $7 million coming available.
Charles' future will depend on how he bounces back from surgery on both knees late last year. His playing future in 2017?
"That's too hard to predict," Reid said0. "Right now, it's just a matter of keeping the swelling out of that thing and him being able to work at that same level that he was able to do before. He's here doing that and that's important. He wants it and normally with a great athlete like he is, a Hall of Fame athlete, if at all possible physically, he would be able to do it again."
–More contract considerations: There are only three others among the 14 players without deals for next season who would be important for the Chiefs to sign, and all are restricted free agents: kicker Cairo Santos, safety Daniel Sorensen and cornerback Terrance Mitchell.
Also without contracts are unrestricted free agents running back Knile Davis, offensive lineman Mike Person and defensive linemen Jarvis Jenkins and Kendall Reyes. Plus, restricted free agents wide receiver Albert Wilson, defensive lineman T.J. Barnes and long snapper James Winchester. Two players who began the season on the injured-reserve list are scheduled to be exclusive rights free agents: wide receiver Kenny Cook and fullback Trey Millard.
–Coaching staff changes? Reid has not made any deletions from his staff in the previous four seasons. The coaches that have moved on did so when hired for other jobs: assistant special teams coach Kevin O'Dea (Tampa Bay), offensive coordinator Doug Pederson (Philadelphia), assistant offensive line coach Eugene Chung (Philadelphia) and defensive assistant Dino Vasso (Philadelphia).
Special teams coordinator Dave Toub interviewed with Denver and San Diego for vacant head coaching jobs, but was not picked. Rumors were about late last week that co-offensive coordinator Brad Childress was a candidate to become offensive coordinator with the Bills. Word out of Buffalo is the team has gone in a different direction.
NOTES, QUOTES
–Once again, the immaturity of tight end Travis Kelce caused problems for the Chiefs in the AFC divisional playoff game against Pittsburgh.
Kelce was the only Kansas City offensive player that produced anything in the way of yards, as his five catches went for 77 yards. But he dropped two passes and was so upset after one of them that he shoved Steelers cornerback to the ground, drawing a 15-yard unsportsmanlike penalty. That slowed the Chiefs offense and cost them 15 yards in field position and they ended up kicking a field goal.
"Yeah, you can't do that," said head coach Andy Reid, who has spent a lot of time in the last two seasons talking to Kelce about controlling his temper and frustrations. "That's the obvious. It followed a ball that he wasn't satisfied — he felt like he should have caught. Those are the little things like that when you're playing here against good competition you can't have things like that. You learn from that."
Or maybe not. After the game, Kelce blasted the officiating for a holding call that wiped out a successful two-point conversion play that would have tied the game. The call went against left tackle Eric Fisher, who pulled down Pittsburgh linebacker James Harrison.
"That wasn't a hold on my guy Eric Fisher," said Kelce. "I hope (Fisher) doesn't go the entire offseason thinking it was his fault. It was just getting our jugulars ripped out because the ref felt bad for James Harrison falling on the ground.
"No. 51 (referee Carl Cheffers) shouldn't even be able to wear a zebra jersey ever again. He shouldn't even be able to work in a damn Foot Locker."
Sounds like Reid will be having even more conversations with his Pro Bowl tight end about his maturity.
–A lot of the postgame focus for the disappointing end to the Chiefs' season will fall on quarterback Alex Smith. It will renew the debate on whether Smith is the man capable of leading his team to a championship.
Smith has led the Chiefs to a 41-20 record in his regular season starts. After the 18-16 loss to Pittsburgh, Smith fell to 1-3 as K.C.'s starting quarterback in the playoffs. Smith threw for only 172 yards against the Steelers, averaging just five yards per attempt. He's the leader of an offense that struggled to find consistency and production.
"It was a big, big opportunity for us," Smith said of playing the divisional-round game at Arrowhead Stadium after getting a week off. "We knew what we were capable of. Certainly, offensively, we didn't hold up our end, didn't get it done. I thought we had a chance to come back and put it into overtime, and we came up short. So, you look at it tomorrow, but there's no next week. You have to move on."
The Chiefs moved on last year, after getting a victory over Houston, but then lost to the host New England Patriots. Both of those games were on the road and Smith says the players knew what had to happen next.
"Last year, we talked about if we could get a home field game what an advantage that is, and we had it this year," said Smith. "You have to figure out a way to take the next step, figure out a way to get past that. Every year is a different challenge though. You never know what it's going to be."
After the game, Smith talked about what the Chiefs can take from the disappointment.
"I think everybody is running through their head on what they could have done differently," said Smith. "What could I have done in the week? What could I have done tonight? What if I'd just done this? That's just the nature of losing. You're going to do that. It's going to play some mind games with you.
"I think, obviously, when you get away from it for a little — you get removed — you have to set your sights on, what do we need to do moving forward. There's a whole process there — offseason and all the stuff that comes with that. How do we take the next step?"
STRATEGY AND PERSONNEL
COACHING CHANGES
–Additions: WR coach Greg Lewis; offensive quality control coach Mike Kafka; assistant special teams coach Rod Wilson.
–Won't return: Assistant head coach/wide receivers coach David Culley; assistant special teams coach Brock Olivo.
ENCLOSED FOR OUR WAR ROOM MEMBERS ARE POSITION UNIT ANALYSIS AS WELL AS SEASON GRADES FOR EACH PLAYER.
Become the smartest and most informed person in the room by getting NFL Pro Personnel style Scouting Reports and Grades from INSIDE THE FILM ROOM from veteran NFL Coaches and Scouts.
Have your own NFL Scouting Department for less than a yearly magazine subscription. By joining today, you get a 50% discount on the first month by using the code = LandryFootball. To get 25% off for a year, use the code = WarRoom.
ENCLOSED IS THE NFL PLAYER GRADING SYSTEM USED BY NFL TEAMS AND SEE HOW PLAYERS GRADED OUT FOR THE SEASON AS THEY ENTER THE OFFSEASON EVALUATION PERIOD FOLLOWED BY FREE AGENCY AND THE DRAFT.
(BLUE) = BLUE players are the top line players in the league. BLUE Players make the plays that are the difference in close games. They have Superior talent and consistently make big plays.
(RED) = RED players win for you. They have starter type production in the league. The Top line REDS are usually BLUE in either the running or passing game but fall short in the other. RED players are impact players and start on contending teams.
(PURPLE) = PURPLE players are players that you can win with even if they are not players that can win for you. They are usually RED in some areas and can match up with some REDS but overall fall short of REDS. PURPLES are very good players. They are solid starters who will usually get the job done in at least some areas. The Pro Personnel scouting axiom is to not play anyone below a PURPLE.
(GREEN) = GREENS are young players with upside potential. While you may not be able to currently play them much, it is due to inexperience and not physical or intangible traits. You cannot to play too many GREENS unless you are in a rebuilding year or out of playoff contention.
The above 3 rating areas are the minimum of what a club must have to win. Any Player below purple must be upgraded or the club does not match up at that position creating a mismatch advantage for their opponents.
(ORANGE) = An ORANGE player is one with backup ability and/or production only. They do not match up versus the REDS and are dominated by the BLUES. An ORANGE should make your squad only if they are a RED or BLUE special teamer. Otherwise, you must replace your ORANGES.
(YELLOW) = A YELLOW player is one who lacks the ability and skills to contribute even as a backup OR someone who has serious medical or character issues. In any of these cases, these players are not worth developing.
INJURED PLAYER (GRAY) = A injured player is designated by a GRAY coloring or circling as even though he currently is not producing, he must be kept alive based on previous ability and skill level and anticipated return of health.
***When you see a players name Multi-colored, this denotes a combination grade.**