We've broken down the tape all season and offer you unit by unit scouting reports and grades for each player on the team indicating needs of help and impending free agents.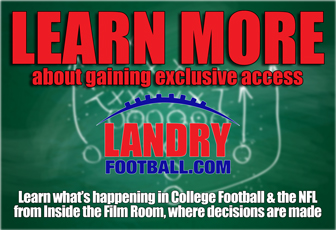 We give you a free season recap and for our WAR ROOM members, a complete NFL Pro Personnel Scouting Report on each position and player, including season grades.
Have your own NFL Scouting Department for less than a magazine subscription.
By joining today, you get a 50% discount on the first month by using the code = LandryFootball. To get 25% off for a year, use the code = WarRoom
==============
DENVER BRONCOS
==============
INSIDE SLANT
Broncos quickly reload coaching job
The Denver Broncos didn't waste time finding a successor to Gary Kubiak as the team hired Miami Dolphins defensive coordinator Vance Joseph as its head coach on Wednesday.
"Becoming head coach of the Denver Broncos is a dream job for many reasons," Joseph said in a statement. "The Broncos have an unbelievable winning tradition and great fan support. But what makes this even more special is it's a place that's ready to win. This is not a rebuilding situation — it's a reboot. There is a culture of winning here, and the standards around here won't change — those are to win championships.
"I am very thankful to (executive vice president) John Elway and (president) Joe Ellis for this opportunity. It's incredibly humbling to be part of an organization like the Broncos with so much history and success, especially when you see all the great things this franchise has accomplished under Mr. (Pat) Bowlen.
"I can't wait to get to work with our players and become part of this community."
Joseph interviewed for nearly four hours with Denver on Tuesday and was scheduled to meet with representatives from the San Diego Chargers the following day. However, the 44-year-old Joseph elected to return to the Broncos' Englewood facility, the Denver Post reported.
Joseph was the last of three candidates to interview for the Broncos. Denver also interviewed Kansas City Chiefs special teams coordinator Dave Toub and Atlanta Falcons offensive coordinator Kyle Shanahan last weekend while their respective teams were on a bye.
"During this process, we were very fortunate to spend time with three very qualified candidates who all could have been the next head coach of our team. For us, Vance Joseph is the best fit to become the head coach of the Denver Broncos," Elway said in a statement.
"Vance is very good football coach and teacher who is ready for this opportunity. His leadership qualities, his vision for building a championship team and his ability to get the most out of players are off the charts. In talking with Vance, the culture that he believes in and the culture of our organization are closely aligned and focused on one thing: Winning. He understands the high expectations this franchise has always had under Pat Bowlen, and he embraces them.
"We had the chance to get to know Vance a few years ago during his interview, and since that time, he's only continued to have success and grow as a coach. I'm very excited to welcome Vance and his family to Denver, and I look forward to working with him on our goal of competing for world championships."
Joseph played a significant role in his lone season with Miami, turning around a Dolphins' team that finished 2015 with a 6-10 mark by helping the club to 10 wins and the franchise's first postseason berth since 2008.
"He's done a great job with our players. I can speak for that first hand," Dolphins coach Adam Gase said. "He took so much off my plate where I never had to worry about anything with the defense. He really did a great job with all those guys in that room.
"Once he was hired, I knew that side of the ball was good to go and I was able to focus on what I needed to with the offense. He has a strong personality and he demands a lot from players and they give him everything they have, which is a testament to his ability as a leader."
Joseph spent three years as the Houston Texans' secondary coach (2011-13) under then-head coach Kubiak and defensive coordinator Wade Phillips. Phillips holds the same position with Denver.
Kubiak, who was plagued by a complex migraine condition, announced his retirement from coaching following a season-ending 24-6 victory over Oakland.
"Vance has been in preparation for this opportunity for many years. He is a leader of men who gets the most out his players," Kubiak said. "V.J. is demanding yet passionate in his relationship with them.
"He is a tremendous addition to the Bronco family. I am so proud of him. His future and the future of the Denver Broncos is very bright. I congratulate V.J. and it's well deserved."
NOTES, QUOTES
–All the key questions about the Broncos can now begin to be answered after the hiring of Vance Joseph as head coach.
Who is the quarterback of the future? Is it Trevor Siemian, Paxton Lynch or someone not currently with the team? What scheme will they run? And will it play more to Lynch's strengths than Siemian's?
What will the team do about its offensive line, which faltered throughout the season, failed to generate much push and ultimately became the flashpoint of the offense's struggles as it lurched to a rank of 27th in total yards?
And nothing matters more than quarterback.
Siemian showed promise but probably did not do enough to be handed the keys without a competition in the offseason. He struggled late in the season, bogged down by a sprained foot and a still-tender left shoulder. He is expected to undergo offseason surgery and return for OTAs.
Lynch had to start from ground zero, given that he had scant experience with relaying play calls in the huddle at Memphis before he was drafted. The Broncos were one of two teams that ran more under-center snaps than shotgun snaps, which further hindered his transition, and the limited game plan provided to him when he started against Jacksonville revealed just how far he had to go. A new scheme could have him starting from zero. But it would also put him on equal terms with Siemian.
It's too early to tell what happens, but the questions aren't going away.
–John Lynch, Brian Dawkins and Terrell Davis made the cut to 15 Hall of Fame finalists, but Steve Atwater and Karl Mecklenburg did not in the list that was announced Jan. 3.
Lynch and Davis are Broncos Ring of Famers, with Lynch earning his induction in October — a week and a half before the Buccaneers inducted him into their Ring of Honor. Lynch and Dawkins are the only two Hall-eligible defensive players with at least nine Pro Bowl selections and two first-team All-Pro nods who are not in the Hall of Fame.
Davis is the only player in league history with a 2,000-yard rushing season, an NFL MVP trophy and a Super Bowl MVP award. He also averaged 101.7 rushing yards per game, including playoffs — a figure that is exceeded only by Jim Brown among backs with at least 6,000 yards.
Atwater and Mecklenburg were left out. Atwater was a first-time finalist last year but could end up lost in the shuffle now and in the future with Dawkins eligible this year and Ed Reed and Troy Polamalu eligible in future years. Mecklenburg, who retired after the 1994 season, will soon pass to the Seniors Committee, and his versatility in lining up at defensive end, inside linebacker and other front-seven spots at various points in his career makes his case one of the most difficult to evaluate.
QUOTE TO NOTE: "We have to get better offensively and we have to compete better offensively to say, 'You know what? We carry half of this load.' You can't rely on that defense." — GM John Elway.
STRATEGY AND PERSONNEL
COACHING CHANGES
–Additions: Head coach Vance Joseph; OC Mike McCoy; QB coach Bill Musgrave; OL coach Jeff Davidson; assistant OL coach John Benton; DB coach Marcus Robertson; assistant DB coach Johnnie Lynn; special teams coordinator Brock Olivo; assistant special teams coach Chris Gould.
–Title changes: DB coach Joe Woods to DC; RB coach Eric Studesville to assistant head coach/running backs.
–Retained: RB coach Eric Studesville; strength and conditioning coach Luke Richesson.
ENCLOSED FOR OUR WAR ROOM MEMBERS ARE POSITION UNIT ANALYSIS AS WELL AS SEASON GRADES FOR EACH PLAYER.
Become the smartest and most informed person in the room by getting NFL Pro Personnel style Scouting Reports and Grades from INSIDE THE FILM ROOM from veteran NFL Coaches and Scouts.
Have your own NFL Scouting Department for less than a yearly magazine subscription. By joining today, you get a 50% discount on the first month by using the code = LandryFootball. To get 25% off for a year, use the code = WarRoom.
ENCLOSED IS THE NFL PLAYER GRADING SYSTEM USED BY NFL TEAMS AND SEE HOW PLAYERS GRADED OUT FOR THE SEASON AS THEY ENTER THE OFFSEASON EVALUATION PERIOD FOLLOWED BY FREE AGENCY AND THE DRAFT.
(BLUE) = BLUE players are the top line players in the league. BLUE Players make the plays that are the difference in close games. They have Superior talent and consistently make big plays.
(RED) = RED players win for you. They have starter type production in the league. The Top line REDS are usually BLUE in either the running or passing game but fall short in the other. RED players are impact players and start on contending teams.
(PURPLE) = PURPLE players are players that you can win with even if they are not players that can win for you. They are usually RED in some areas and can match up with some REDS but overall fall short of REDS. PURPLES are very good players. They are solid starters who will usually get the job done in at least some areas. The Pro Personnel scouting axiom is to not play anyone below a PURPLE.
(GREEN) = GREENS are young players with upside potential. While you may not be able to currently play them much, it is due to inexperience and not physical or intangible traits. You cannot to play too many GREENS unless you are in a rebuilding year or out of playoff contention.
The above 3 rating areas are the minimum of what a club must have to win. Any Player below purple must be upgraded or the club does not match up at that position creating a mismatch advantage for their opponents.
(ORANGE) = An ORANGE player is one with backup ability and/or production only. They do not match up versus the REDS and are dominated by the BLUES. An ORANGE should make your squad only if they are a RED or BLUE special teamer. Otherwise, you must replace your ORANGES.
(YELLOW) = A YELLOW player is one who lacks the ability and skills to contribute even as a backup OR someone who has serious medical or character issues. In any of these cases, these players are not worth developing.
INJURED PLAYER (GRAY) = A injured player is designated by a GRAY coloring or circling as even though he currently is not producing, he must be kept alive based on previous ability and skill level and anticipated return of health.
***When you see a players name Multi-colored, this denotes a combination grade.**